Faculty:
Read & modify our textbooks
Students:
Start by locating your class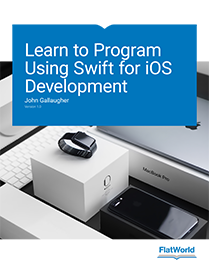 Learn to Program Using Swift for iOS Development,
v. 1.0
Pub Date:

May 2017

eISBN:

978-1-4533-8148-9

Pages:

258
What do you want to do?
Table of Contents:
Show me how easy it is to modify this textbook >
INSTRUCTORS:
Interested in combining chapters from this book with your own or other third party content?
XanEdu can help.
Learn more »
Product Details:
Available Formats:
Online Access [Required] $24.95
Summary:
Learn to Program using Swift for iOS Development, V. 1.0
John Gallaugher
---
This textbook is suitable for two- and four-year institutions for the following courses: Introduction to Programming, Intermediate Programming, and courses that offer a module on beginning app development. Requires a Mac and a streaming-capable Internet connection. Appropriate for use in a light-lifting, flipped classrooms, as the primary learning tool for a conventional programming class, for online app development courses, and to support student independent studies.
---
OVERVIEW
A PROGRAMMING COURSE STUDENTS WILL LOVE

Most students want to build apps. However, the conventional learning curve has traditionally been too steep, and many students become discouraged before they can see results. Designed to get new-to-programming students building fully functional apps immediately, this hands-on resource is ideal for a high-impact "flipped-classroom" setting. Students experience "lectures" outside of class by following along with 70+ detailed and comprehensive learn-by-doing videos. Most are less than 30-minutes long and appropriate for continuous, daily learning. Students apply concepts in real-time and can replay challenging segments as needed. Each video introduces new technical concepts alongside iOS app development basics, supporting a series of app builds over time. Videos are paired with online quizzes and followed by additional learning scaffolding, including written reference material related to topics covered, providing a handy resource when students apply the same concepts to their own projects. Exercises following each section give students an additional opportunity to apply topics immediately. Anyone with a Mac computer capable of running Apple's free Xcode software can experience this course. Apps are run in an iOS simulator, and students can install apps on any device plugged into their Macs.

SUPPORTS A STUDENT-CENTERED EXPERIENCE

It can be a struggle to keep up with the latest technology, prepare lectures, exercises, and exams, but with this online resource, offering a programming course has never been easier. Instructional videos feature an award-winning teacher that encourages students to follow along and complete a series of streamed, pre-recorded weekly lectures. Class time is freed up for completing exercises that reinforce learning. Share an exercise, demonstrate a completed result, then let students work individually or with partners to come up with solutions. A detailed solutions manual written by the author provides solutions for all problems so faculty can spend more time interacting with students.

PREPARE STUDENTS FOR THE GOLDEN AGE OF COLLEGIATE ENTREPRENEURSHIP

Student entrepreneurship is hot, but if students don't possess the skills to turn visions into realities, it's simply an academic exercise. Hands-on experiences building apps allow students to experiment with critical business concepts, such as product-market fit, viral marketing, product adoption incentives, addressing and responding to customer feedback, and more. Move beyond a business idea pitch competition by giving your students the knowledge and experience to build and promote real products.
KEY FEATURES
INTRODUCES CORE PROGRAMMING CONCEPTS

Students gain an introduction to: constants, variables, scope, data types, arrays, mathematical functions, looping (for, while, repeat-while), conditional logic (Booleans, if, switch-case), string manipulation, tuples, structures, closures, event-driven programming, functions, functional programming, object orientation (concepts & design), error handling, refactoring, model-view-controller design, device and data privacy concerns, and standards for readability and reuse.

COVERS CORE iOS CONCEPTS

iOS concepts reinforce modern user-centered computing, with this course covering core interface elements, the iOS SDK/API, and additional concepts including: labels, text fields, buttons, switches, navigation bars, images, sounds, picker wheels, scrollable table controllers, tab controllers, camera and image library access, navigation between screens, random number generation, event detection, simple animation, basic permanent storage, geolocation and location-aware apps, data access, working with third party APIs, JSON parsing, and source control with Git/GitHub.

ENCOURAGES SELF-DIRECTED LEARNING

All students need is a Mac computer to initiate the learning process. Assign this book as a core or supplementary resource—or make it the basis for a self-directed independent study. Stimulate a passion for software development and provide even non-technical students with a sound understanding of app development that encourages future learning. The book is a self-contained learning tool that consists of everything a student needs to begin building functional apps immediately.

CONTINUOUS UPDATES

Expect high-value annual updates, including adding new exercises and additional content to keep this book up-to-date, fresh, and exciting.
---
About the Author:
Named "Guru to Grads" by Entrepreneur Magazine, Prof. John Gallaugher has received repeated recognition for excellence in teaching, including the Boston College Trzaska Faculty Leadership Award, the all-university Teaching Award, and the student newspaper's Momentum Award for campus impact. During his time on the leadership team of the Boston College Venture Competition (BCVC), entrepreneurs affiliated with this program gained admittance to elite startup accelerators (Y-combinator, TechStars, MassChallenge, Summer@Highland), launched multiple products, and raised over $100 million in capital. As founder of the University's TechTrek programs (Silicon Valley, Seattle, New York, Boston, and Ghana), Gallaugher and his students spend several weeks each year, learning from technologists, executives, entrepreneurs, and venture capitalists at leading organizations from Apple to Zynga.
For regular updates, follow Gallaugher's blog, The Week in Geek, and connect with him on Twitter at @gallaugher.
Supplements:
This textbook comes with the following materials that you can use in your classroom.
Connect:
Who's Using this Textbook?