Faculty:
Read & modify our textbooks
Students:
Start by locating your class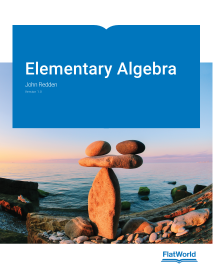 Elementary Algebra,
v. 1.0
Pub Date:

February 2011

eISBN:

978-1-4533-2737-1

Pages:

655
What do you want to do?
Table of Contents:
Show me how easy it is to modify this textbook >
INSTRUCTORS:
Interested in combining chapters from this book with your own or other third party content?
XanEdu can help.
Learn more »
Product Details:
Available Formats:
Online Access [Required] $29.95
Online Access [Required] + Ebook Downloads $49.95
Online Access [Required] + Black & White Textbook* $54.95
Online Access [Required] + Ebook Downloads + Black & White Textbook* $74.95

* Moving to color textbooks in the spring of 2017 for the same price.
Summary:
Elementary Algebra
John Redden
---
In writing Elementary Algebra, John Redden had simple but important aims:
Lay a solid foundation in mathematics through algebra, the basis of all mathematical modeling used in a variety of disciplines
Guide students from the basics to more advanced techniques in mathematics


---
This textbook is suitable for these courses: Elementary Algebra
This textbook is suitable for 2 and 4-year institutions.
---
PEDAGOGICAL FEATURES:
REAL WORLD APPLICATIONS:

With diverse exercise sets, students have the opportunity to solve plenty of practice problems. Elementary Algebra has applications incorporated into each and every exercise set. John makes use of the classic "translating English sentences into mathematical statements" subsections in chapter 1 and as the text introduces new key terms.

VIDEO EXAMPLES AND ACTIVITIES:

Embedded video examples are present, while the importance of practice with pencil and paper is still stressed. This text respects the traditional approaches to algebra instruction while enhancing it with today's technology.

OPEN AND MODULAR FORMAT:

While algebra is one of the most diversely applied subjects, students find it to be a difficult hurdle in their education. With this in mind, John Redden wrote Elementary Algebra in a format that allows instructors to modify it and leverage their individual expertise and maximize student experience and success.

MORE VALUE AT AN AFFORDABLE PRICE:

Using the online text in conjunction with a printed version of the text could promote greater understanding (at a lower cost than most algebra texts).
Supplements:
This textbook comes with the following materials that you can use in your classroom.
Test Item File
Need assistance in supplementing your quizzes and tests? Our test item files (in Word format) contain many true/false, multiple choice, fill in the blanks, and short essay questions.
Instructor Manual
The Instructor Manual (in Word format) will help guide you through the main concepts of each chapter such as learning objectives, key terms and takeaways. Many also include explanations and answers to chapter exercises.
Powerpoint Lecture Notes
A PowerPoint presentation highlighting key learning objectives and the main concepts for each chapter are available for you to use in your classroom. You can either cut and paste sections or use the presentation as a whole
Test Generator
Prefer printable tests? Download our test generator and start creating printable tests today! We offer a test generator for both PC and Mac users.
Solutions Manual
For exercises that need a little more explanation, our Solutions Manual will take you step by step through solving the problem and offer explanations on the answer.
Testbank for Import to Learning Management System
We have taken our test item file and created files to import into several Learning Management Systems. Click for detailed information and file availability.
Connect:
Who's Using this Textbook?