Faculty:
Read & modify our textbooks
Students:
Start by locating your class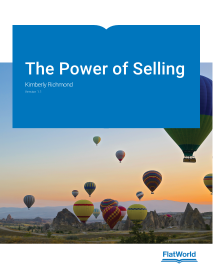 The Power of Selling,
v. 1.0
Pub Date:

March 2010

eISBN:

978-1-4533-2723-4

Pages:

470
What do you want to do?
Product Details:
Available Formats:
Online Access [Required] $29.95
Online Access [Required] + Ebook Downloads $49.95
Online Access [Required] + Black & White Textbook* $54.95
Online Access [Required] + Ebook Downloads + Black & White Textbook* $74.95

* Moving to color textbooks in the spring of 2017 for the same price.
Summary:
The Power of Selling
Kimberly Richmond
---
In writing The Power of Selling, Kimberly Richmond's goals were simple:

To make the selling process really come alive for students in the classroom
To teach students how to apply the fundamentals of selling to how to sell themselves and get the job they want, with the same process professional sales people learn for their own selling skills.

---

This textbook is suitable for these courses: Marketing, Sales, Salesmanship (introductory level)

This textbook is suitable for 2 and 4 year institutions.

---

PEDAGOGICAL FEATURES:

CONTENT:

The content is based on the core selling tenets so instructors will find the familiar principles of selling. In addition, the impact of Sales 2.0 is addressed at every stage including how to use interactive tools such as Twitter, LinkedIn, Facebook, blogs, and wikis effectively.

VIDEO "RIDE-ALONGS":

One of the best ways to learn about sales is by going on ride-alongs. So, every chapter begins with an exclusive feature called a Video Ride-Along. These short videos feature seven different sales professionals — one that starts each chapter. Each one talks about how he or she applies one of the key concepts covered in the chapter in their job. These videos are designed to be "virtual ride-alongs," so students can actually feel as though they are getting insights first hand from selling professionals.

VIDEO LEARNING SEGMENTS:

Video Learning Segments are PowerPoint slides embedded with videos designed to supplement the course PowerPoints and focus on one concept, like an ethical dilemma, pre-call preparation, effective presentations, or effective emailing. Each segment includes slides, videos, discussion questions, or exercises.

SELLING U:

The last section of each chapter is called Selling U. It applies the concepts covered in the chapter to a student's job search. Selling U topics include how to think about yourself as a brand, how to create a powerful cover letter and resume, how to create your personal elevator pitch, how to use networking and informational interviews to get the word out about your brand, how to prepare and dress for an interview, and how to negotiate and accept the right job offer. What makes The Power of Selling different is that Selling U is integrated into every chapter, making this text the ultimate guide to selling yourself.

CUSTOMIZABILITY:

The Flat World Knowledge publishing model allows instructors to adapt the textbook to the exact needs of their specific class and student body.

See how easy it is to customize a textbook in this 4 minute demo: Flat World Editing Platform Video Demo

---

You can visit the YouTube channel here for more than 50 videos you can use as resources for exercises and assignments in the classroom.

Or, find the Power of Selling group on LinkedIn, including sales professionals from across the country and many different industries. It is a great tool for networking, discussions, asking questions, and connecting with "real world" selling professionals.
Supplements:
This textbook comes with the following materials that you can use in your classroom.
Test Item File
Need assistance in supplementing your quizzes and tests? Our test item files (in Word format) contain many true/false, multiple choice, fill in the blanks, and short essay questions.
Instructor Manual
The Instructor Manual (in Word format) will help guide you through the main concepts of each chapter such as learning objectives, key terms and takeaways. Many also include explanations and answers to chapter exercises.
Other Supplements
Solutions manuals, sample exams, video learning segments, workbooks, cases and lab manuals are just some of the extras our books will offer depending on the needs of the course. Click here to see what this textbook offers.
Powerpoint Lecture Notes
A PowerPoint presentation highlighting key learning objectives and the main concepts for each chapter are available for you to use in your classroom. You can either cut and paste sections or use the presentation as a whole
Test Generator
Prefer printable tests? Download our test generator and start creating printable tests today! We offer a test generator for both PC and Mac users.
Testbank for Import to Learning Management System
We have taken our test item file and created files to import into several Learning Management Systems. Click for detailed information and file availability.
Connect:
Who's Using this Textbook?