Faculty:
Read & modify our textbooks
Students:
Start by locating your class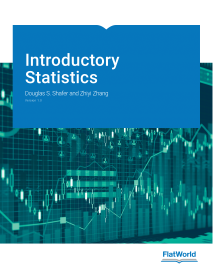 Introductory Statistics,
v. 1.0
By:

Douglas S. Shafer and Zhiyi Zhang
Pub Date:

August 2012

eISBN:

978-1-4533-4487-3

Pages:

390
What do you want to do?
Table of Contents:
Show me how easy it is to modify this textbook >
INSTRUCTORS:
Interested in combining chapters from this book with your own or other third party content?
XanEdu can help.
Learn more »
Product Details:
Available Formats:
Online Access [Required] $29.95
Online Access [Required] + Ebook Downloads $49.95
Online Access [Required] + Black & White Textbook* $54.95
Online Access [Required] + Ebook Downloads + Black & White Textbook* $74.95

* Moving to color textbooks in the spring of 2017 for the same price.
Summary:
In many introductory level courses today, teachers are challenged with the task of fitting in all of the core concepts of the course in a limited period of time. The Introductory Statistics teacher is no stranger to this challenge. To add to the difficulty, many textbooks contain an overabundance of material, which not only results in the need for further streamlining, but also in intimidated students. Shafer and Zhang wrote Introductory Statistics by using their vast teaching experience to present a complete look at introductory statistics topics while keeping in mind a realistic expectation with respect to course duration and students' maturity level.
Over time the core content of this course has developed into a well-defined body of material that is substantial for a one-semester course. Shafer and Zhang believe that the students in this course are best served by a focus on that core material and not by an exposure to a plethora of peripheral topics. Therefore in writing Introduction to Statistics they have sought to present only the core concepts and use a wide-ranging set of exercises for each concept to drive comprehension. As a result Introduction to Statistics is a smaller and less intimidating textbook that trades some extended and unnecessary topics for a better-focused presentation of the central material.
You will not only appreciate the depth and breadth of exercises in Introduction to Statistics, but you will also like the close attention to detail that Shafer and Zhang have paid to the student and instructor solutions manuals. This is one of few books on the market where the textbook authors have written the solutions manuals to maintain the integrity of the material.
In addition, in order to facilitate the use of technology with the book the authors included "large data set exercises," where appropriate, that refer to large data sets that are available on the web, and for which use of statistical software is necessary.

See how easy it is to customize a textbook in this 4 minute demo: Flat World Editing Platform Video Demo
Take time to peruse Introduction to Statistics by Shafer and Zhang to see if its core-concept focus and robust exercise sets are right for your Introductory Statistics course and students.
Supplements:
This textbook comes with the following materials that you can use in your classroom.
Test Item File
Need assistance in supplementing your quizzes and tests? Our test item files (in Word format) contain many true/false, multiple choice, fill in the blanks, and short essay questions.
Instructor Manual
The Instructor Manual (in Word format) will help guide you through the main concepts of each chapter such as learning objectives, key terms and takeaways. Many also include explanations and answers to chapter exercises.
Powerpoint Lecture Notes
A PowerPoint presentation highlighting key learning objectives and the main concepts for each chapter are available for you to use in your classroom. You can either cut and paste sections or use the presentation as a whole
Test Generator
Prefer printable tests? Download our test generator and start creating printable tests today! We offer a test generator for both PC and Mac users.
Solutions Manual
For exercises that need a little more explanation, our Solutions Manual will take you step by step through solving the problem and offer explanations on the answer.
Testbank for Import to Learning Management System
We have taken our test item file and created files to import into several Learning Management Systems. Click for detailed information and file availability.
Connect:
Who's Using this Textbook?