Faculty:
Read & modify our textbooks
Students:
Start by locating your class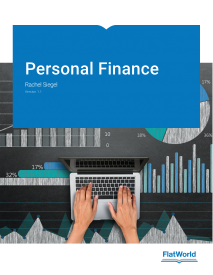 Personal Finance,
v. 1.1
Pub Date:

September 2014

eISBN:

978-1-4533-6735-3

Pages:

358
What do you want to do?
Product Details:
Available Formats:
Online Access [Required] $29.95
Online Access [Required] + Ebook Downloads $49.95
Online Access [Required] + Black & White Textbook* $54.95
Online Access [Required] + Ebook Downloads + Black & White Textbook* $74.95

* Moving to color textbooks in the spring of 2017 for the same price.
Summary:
Personal Finance, v. 1.1
Rachel Siegel
---
WHAT'S NEW IN 1.1:
UPDATED SECTIONS:

The section "Insuring Your Health" is refreshed, including new material regarding the Affordable Care Act and the resultant "Patient's Bill of Rights."

ALIGNMENT WITH CURRENT LEGISLATION:

New material in "Ethics and Regulation" sections (and throughout, as applicable) covers recently established consumer watchdog agencies and mechanisms put in place with the passage of The Dodd–Frank Wall Street Reform and Consumer Protection Act.
---
In writing Personal Finance, Rachel Siegel's goals were clear and simple:
To help students develop a strong sense of financial literacy
To provide a wide range of pedagogical aids to keep students engaged and instructors on track.
---
This textbook is suitable for these courses: Personal Finance
This textbook is suitable for 2 and 4 year institutions.
---
PEDAGOGICAL FEATURES:
LEARNING OBJECTIVES:

The headings, summaries, reviews and problems all link together via the learning objectives. This helps instructors teach what they want and assign problems that correspond to the learning objectives covered in class.

PERSONAL FINANCE PLANNING PROBLEMS:

Personal Finance includes personal finance planning problems with links to solutions and application exercises, with links to their associated worksheet(s) or spreadsheet(s).

INTERACTIVE AND PRACTICAL CONCEPT APPLICATIONS:

In addition, the text boasts a large number of links to videos, podcasts, experts' tips or blogs, and magazine articles to illustrate the practical applications for concepts covered in the text.

CUSTOMIZABILITY:

Finally, the modular nature of the chapters lends itself to the Flat World Knowledge publishing model allowing instructors to adapt the textbook to the exact needs of their specific class and student body.

See how easy it is to customize a textbook in this 4 minute demo: Flat World Editing Platform Video Demo
Supplements:
This textbook comes with the following materials that you can use in your classroom.
Test Item File
Need assistance in supplementing your quizzes and tests? Our test item files (in Word format) contain many true/false, multiple choice, fill in the blanks, and short essay questions.
Instructor Manual
The Instructor Manual (in Word format) will help guide you through the main concepts of each chapter such as learning objectives, key terms and takeaways. Many also include explanations and answers to chapter exercises.
Powerpoint Lecture Notes
A PowerPoint presentation highlighting key learning objectives and the main concepts for each chapter are available for you to use in your classroom. You can either cut and paste sections or use the presentation as a whole
Testbank for Import to Learning Management System
We have taken our test item file and created files to import into several Learning Management Systems. Click for detailed information and file availability.
Connect:
Who's Using this Textbook?