Faculty:
Read & modify our textbooks
Students:
Start by locating your class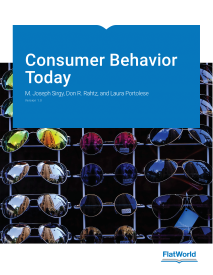 Consumer Behavior Today,
v. 1.0
By:

M. Joseph Sirgy, Don R. Rahtz and Laura Portolese
Pub Date:

May 2014

eISBN:

978-1-4533-6314-0

Pages:

586
What do you want to do?
Product Details:
Available Formats:
Online Access [Required] $29.95
Online Access [Required] + Ebook Downloads $49.95
Online Access [Required] + Black & White Textbook* $54.95
Online Access [Required] + Ebook Downloads + Black & White Textbook* $74.95

* Moving to color textbooks in the spring of 2017 for the same price.
Summary:
Consumer Behavior Today
Joe Sirgy, Don R. Rahtz, & Laura Portolese Dias
---
In writing Consumer Behavior Today, oe Sirgy, Don R. Rahtz, and Laura Portolese Dias had simple goals:

To write a text covering the psychology and sociology of human behavior as it relates to consumer decision making and action
To emphasize contemporary issues of consumerism, marketing, and social media
To help consumers better understand their own behavior in the marketplace and improve upon it

---

This textbook is suitable for these courses: Marketing, Consumer Behavior

This textbook is suitable for 2 and 4 year institutions.

---

PEDAGOGICAL FEATURES:

EMPHASIS ON BENEFITS:

Shopping, buying, and consuming goods and services that deliver desired benefits is a major focus of the book. People do not really buy "goods" and "service"; they buy the ''benefits'' that these goods and services provide.

MARKETING & PUBLIC POLICY IMPLICATIONS:

Understanding what benefits consumers seek and how they make decisions, shop, buy, and consume helps marketers develop and carry out more effective marketing strategies: target marketing, product strategy, price strategy, place strategy, and promotion strategy. The principles and practical actions presented also have direct application in the public and not-for-profit (NFP) sectors. Each of these sectors needs to be able to better understand the needs and behaviors of the markets they serve.
Supplements:
This textbook comes with the following materials that you can use in your classroom.
Test Item File
Need assistance in supplementing your quizzes and tests? Our test item files (in Word format) contain many true/false, multiple choice, fill in the blanks, and short essay questions.
Instructor Manual
The Instructor Manual (in Word format) will help guide you through the main concepts of each chapter such as learning objectives, key terms and takeaways. Many also include explanations and answers to chapter exercises.
Powerpoint Lecture Notes
A PowerPoint presentation highlighting key learning objectives and the main concepts for each chapter are available for you to use in your classroom. You can either cut and paste sections or use the presentation as a whole
Testbank for Import to Learning Management System
We have taken our test item file and created files to import into several Learning Management Systems. Click for detailed information and file availability.
Connect:
Who's Using this Textbook?