Faculty:
Read & modify our textbooks
Students:
Start by locating your class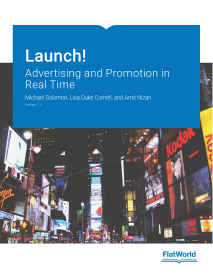 Launch! Advertising and Promotion in Real Time,
v. 1.0
By:

Michael Solomon, Lisa Duke Cornell and Amit Nizan
Pub Date:

February 2009

eISBN:

978-1-4533-2685-5

Pages:

318
What do you want to do?
Product Details:
Student Formats:
Digital All Access Pass $51

Access to online, offline, and eBook formats: online book with Study Pass, chapter PDFs, and eBook files for tablets, e-readers, and smartphones.

Study Pass $24

Access to the online book only with study tools like note-taking and highlighting; study aids like flashcards; and study view, which collapses each chapter into key terms and key takeaways.

Black & White Print Textbook $89

Bonus access to online and eBooks.

Color Print Textbook $139

Bonus access to online book.
Summary:
Launch! Advertising and Promotion in Real Time
Michael Solomon, Lisa Duke Cornell and Amit Nazan
---
In writing Launch! Advertising and Promotion in Real Time, the authors' goals were simple:

To teach advertising concepts by reverse engineering a real advertising campaign from beginning to end.

---

This textbook is suitable for these courses: Advertising, Promotion

This textbook is suitable for 2 and 4 year institutions.

---

PEDAGOGICAL FEATURES:

IN-DEPTH CAMPAIGN ANALYSIS:

In April 2007, SS+K, an innovative New York City communications agency, launched the first ever branding campaign for msnbc.com with the tag "A Fuller Spectrum of News." Launch! follows that campaign from initial agency pitch through roll-out of print and media assets to post-campaign analysis.

"BEHIND THE CURTAIN" APPROACH:

This textbook exposes readers to the theory and concepts of advertising and promotion and the personalities and decisions that drove this campaign behind the curtain" — even letting you see some of the paths not chosen by the agency and client.

VARIED PERSPECTIVES:

Students get a realistic sense of how theory plays out in practice and get a flavor for the exciting field of advertising and promotion. This textbook exposes students to perspectives of both the advertising agency and the client.
Supplements:
This textbook comes with the following materials that you can use in your classroom.
Test Item File
Need assistance in supplementing your quizzes and tests? Our test item files (in Word format) contain many true/false, multiple choice, fill in the blanks, and short essay questions.
Instructor Manual
The Instructor Manual will help guide you through the main concepts of each chapter such as learning objectives, key terms and takeaways. Many also include explanations and answers to chapter exercises.
Powerpoint Lecture Notes
A PowerPoint presentation highlighting key learning objectives and the main concepts for each chapter are available for you to use in your classroom. You can either cut and paste sections or use the presentation as a whole
Other Supplements
Solutions manuals, sample exams, video learning segments, workbooks, cases and lab manuals are just some of the extras our books will offer depending on the needs of the course. Click here to see what this textbook offers.
Testbank for Import to Learning Management System
We have taken our test item file and created files to import into the following Learning Management Systems*: Blackboard, Angel, Moodle, WebCT. We also support a Respondus Neutral file that you can use to easily import our questions in any LMS supported by Respondus. * Please note that only certain versions of each LMS are supported. Click on Supplements for detailed information
Connect:
Who's Using this Textbook?