Faculty:
Read & modify our textbooks
Students:
Start by locating your class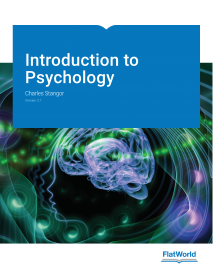 Introduction to Psychology,
v. 2.1
Pub Date:

July 2014

eISBN:

978-1-4533-6576-2

Pages:

498
What do you want to do?
Table of Contents:
Show me how easy it is to modify this textbook >
INSTRUCTORS:
Interested in combining chapters from this book with your own or other third party content?
XanEdu can help.
Learn more »
Product Details:
Available Formats:
Online Access [Required] $29.95
Online Access [Required] + Ebook Downloads $49.95
Online Access [Required] + Black & White Textbook* $54.95
Online Access [Required] + Ebook Downloads + Black & White Textbook* $74.95

* Moving to color textbooks in the spring of 2017 for the same price.
Summary:
Introduction to Psychology, v. 2.1
Charles Stangor
---
WHAT'S NEW IN 2.1:
SPECIAL DSM-5 UPDATE:

This new revision includes a fresh update with new references to DSM-5.

ENHANCED COVERAGE:

With over 300 new research citations in total, discussions of neuroscience, evolutionary psychology, and behavioral genetics are strengthened throughout the text.

REORGANIZED CHAPTERS:

Social psychology now appears earlier in the textbook, allowing for a better flow of information and concepts

---

In writing Introduction to Psychology, vol. 2.1, Charles Stangor's aims were simple:

To utilize the dual theme of behavior and empiricism and make psychology relevant to intro-level students
To emphasize critical thinking
To offer streamlined, easy-to-comprehend coverage of the principles of psychology, as well as real-world examples of psychology in everyday life.

---

This textbook is suitable for these courses: Introduction to Psychology

This textbook is suitable for 2 and 4 year institutions.

---

PEDAGOGICAL FEATURES:

Chapter Openers:

Each chapter opens showcasing real world examples of people dealing with behavioral questions and who can use psychology to help them answer them. The opener is designed to draw the student into the chapter and create an interest in learning about the topic.

Psychology in Everyday Life:

Each chapter contains one or two features designed to link the principles from the chapter to real-world applications.

Research Focus:

Each chapter presents two close-ups on research that remind students of the importance of empirical research. These close-ups emphasize the fact that findings are not always predictable ahead of time (dispelling the myth of hindsight bias), and also help students understand how research really works.

Customizability:

The Flat World Knowledge publishing model allows instructors to adapt the textbook to the exact needs of their specific class and student body.

See how easy it is to customize a textbook in this 4 minute demo: Flat World Editing Platform Video Demo
Supplements:
This textbook comes with the following materials that you can use in your classroom.
Test Item File
Need assistance in supplementing your quizzes and tests? Our test item files (in Word format) contain many true/false, multiple choice, fill in the blanks, and short essay questions.
Instructor Manual
The Instructor Manual (in Word format) will help guide you through the main concepts of each chapter such as learning objectives, key terms and takeaways. Many also include explanations and answers to chapter exercises.
Powerpoint Lecture Notes
A PowerPoint presentation highlighting key learning objectives and the main concepts for each chapter are available for you to use in your classroom. You can either cut and paste sections or use the presentation as a whole
Connect:
Who's Using this Textbook?