Faculty:
Read & modify our textbooks
Students:
Start by locating your class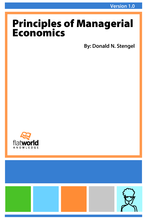 Principles of Managerial Economics,
v. 1.0
Pub Date:

February 2012

eISBN:

978-1-4533-3290-0

Pages:

148
What do you want to do?
Table of Contents:
Show me how easy it is to modify this textbook >
INSTRUCTORS:
Interested in combining chapters from this book with your own or other third party content?
XanEdu can help.
Learn more »
Product Details:
Student Formats:
Digital All Access Pass $39

Access to online, offline, and eBook formats: online book with Study Pass, chapter PDFs, and eBook files for tablets, e-readers, and smartphones.

Study Pass $24

Access to the online book only with study tools like note-taking and highlighting; study aids like flashcards; and study view, which collapses each chapter into key terms and key takeaways.

Black & White Print Textbook $59

Bonus access to online and eBooks.
Summary:
Principles of Managerial Economics addresses subject of applying microeconomics to business decisions.
Although economics is sometimes dismissed as a discourse of practical relevance to only a relatively small circle of academicians and policy analysts who call themselves economists, the reality is sound economic reasoning benefits any manager of a business, whether they are involved with production/operations, marketing, finance, or corporate strategy.
Stengel presents key relationships between price, quantity, cost, revenue, and profit for an individual firm are presented in form of simple conceptual models. Principles of Managerial Economics includes key elements from the economics of consumer demand and the economics of production. It discusses economic motivations for expanding a business and contributions from economics for improved organization of large firms. Market price quantity equilibrium, competitive behavior, and the role of market structure on market equilibrium and competition are also addressed.
Finally, the text considers market regulation in terms of the generic problems that create the need for regulation and possible remedies for those problems.
Although the academic literature of managerial economics often employs abstract mathematics and large corporations create and use sophisticated mathematical models that apply economics, Principles of Managerial Economics focuses on concepts, terminology, and principles, with minimal use of mathematics. Your students will gain a better understanding of why businesses and markets function as they do and how those institutions can function better.
To see if Stengel's Principles of Managerial Economics is the right compliment to your course, review it online or request review materials today.
Supplements:
This textbook comes with the following materials that you can use in your classroom.
Instructor Manual
The Instructor Manual will help guide you through the main concepts of each chapter such as learning objectives, key terms and takeaways. Many also include explanations and answers to chapter exercises.
Powerpoint Lecture Notes
A PowerPoint presentation highlighting key learning objectives and the main concepts for each chapter are available for you to use in your classroom. You can either cut and paste sections or use the presentation as a whole
Test Item File
Need assistance in supplementing your quizzes and tests? Our test item files (in Word format) contain many true/false, multiple choice, fill in the blanks, and short essay questions.
Connect:
Who's Using this Textbook?