Faculty:
Read & modify our textbooks
Students:
Start by locating your class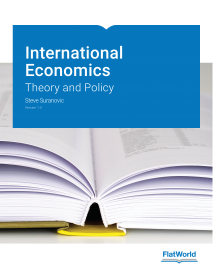 International Economics: Theory and Policy,
v. 1.0
Pub Date:

August 2010

eISBN:

978-1-4533-2722-7

Pages:

614
What do you want to do?
Product Details:
Student Formats:
Digital All Access Pass $51

Access to online, offline, and eBook formats: online book with Study Pass, chapter PDFs, and eBook files for tablets, e-readers, and smartphones.

Study Pass $24

Access to the online book only with study tools like note-taking and highlighting; study aids like flashcards; and study view, which collapses each chapter into key terms and key takeaways.

Black & White Print Textbook $89

Bonus access to online and eBooks.

Color Print Textbook $139

Bonus access to online book.
Summary:
International Economics: Theory and Policy
Steve Suranovic
---
In writing International Economics: Theory and Policy, Steve Suranovic's goals were simple:

Offer students the theory and models to understand how economics works and how economists understand the world
Provide faculty with a fully developed teaching package to enable that goal

---

This textbook is suitable for these courses: Full-year trade and finance courses; or a one-semester trade/finance course

This textbook is suitable for 2 and 4 year institutions.

---

PEDAGOGICAL FEATURES:

MODEL WALKTHROUGHS:

The text walks students through a detailed description of how models' assumptions influence their conclusions. Then, students learn how the models connect with the real world.

INSIGHTFUL QUESTIONS & ANSWERS

This section encourages students to walk through scenarios related to each concept and idea.

CLEAR, STRAIGHTFORWARD EXPLANATIONS:

Needlessly difficult material is eliminated, while other principles, including the development of the relative supply/demand structure or the presentation of offer curves, are omitted as to not go too deeply into often-confusing topics for students at this level.

UNIQUE APPROACHES:

Approaches in this text offer a new way to present the Jones' magnification effects, a systematic method to teach the theory of the second best, and a unique description of valid reasons to worry about trade deficits.
Supplements:
This textbook comes with the following materials that you can use in your classroom.
Test Item File
Need assistance in supplementing your quizzes and tests? Our test item files (in Word format) contain many true/false, multiple choice, fill in the blanks, and short essay questions.
Instructor Manual
The Instructor Manual will help guide you through the main concepts of each chapter such as learning objectives, key terms and takeaways. Many also include explanations and answers to chapter exercises.
Powerpoint Lecture Notes
A PowerPoint presentation highlighting key learning objectives and the main concepts for each chapter are available for you to use in your classroom. You can either cut and paste sections or use the presentation as a whole
Connect:
Who's Using this Textbook?