Faculty:
Read & modify our textbooks
Students:
Start by locating your class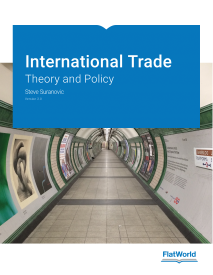 International Trade: Theory and Policy,
v. 1.0
Pub Date:

May 2010

eISBN:

978-1-4533-2732-6

Pages:

338
What do you want to do?
Table of Contents:
Show me how easy it is to modify this textbook >
INSTRUCTORS:
Interested in combining chapters from this book with your own or other third party content?
XanEdu can help.
Learn more »
Product Details:
Available Formats:
Online Access [Required] $29.95
Online Access [Required] + Ebook Downloads $49.95
Online Access [Required] + Black & White Textbook* $54.95
Online Access [Required] + Ebook Downloads + Black & White Textbook* $74.95

* Moving to color textbooks in the spring of 2017 for the same price.
Summary:
International Trade: Theory and Policy
Steve Suranovic
---
In writing International Trade: Theory and Policy, Steve Suranovic's goals were simple:

To help students realize how economic models are applied to real-world issues
To develop a unified model of the international macroeconomy

---

This textbook is suitable for these courses: International Trade (one semester)

This textbook is suitable for 2 and 4 year institutions.

---

PEDAGOGICAL FEATURES:

HISTORICAL CONTEXT:

The text begins with an historical overview of trade policy issues to provide context for the theory and concludes with a detailed economic argument supporting free trade.

WELFARE ANALYSIS:

The welfare analysis in the Ricardian, Heckscher-Ohlin and specific factors models emphasize the redistributive effects of free trade by calculating changes in real incomes.

DOMESTIC POLICY COVERAGE:

A chapter about domestic policies contains an evaluation of domestic taxes and subsidies that are often ignored in traditional trade textbooks but are increasingly important as large countries complain more about each other's domestic agricultural policies and labor and environmental policies.

THEORY OF THE SECOND-BEST:

The text uses the theory of the second-best to explain why protection can improve national welfare. This well-known theoretical result is rarely presented as methodically and consistently as it is in this text.
Supplements:
This textbook comes with the following materials that you can use in your classroom.
Test Item File
Need assistance in supplementing your quizzes and tests? Our test item files (in Word format) contain many true/false, multiple choice, fill in the blanks, and short essay questions.
Instructor Manual
The Instructor Manual (in Word format) will help guide you through the main concepts of each chapter such as learning objectives, key terms and takeaways. Many also include explanations and answers to chapter exercises.
Other Supplements
Solutions manuals, sample exams, video learning segments, workbooks, cases and lab manuals are just some of the extras our books will offer depending on the needs of the course. Click here to see what this textbook offers.
Connect:
Who's Using this Textbook?