Faculty:
Read & modify our textbooks
Students:
Start by locating your class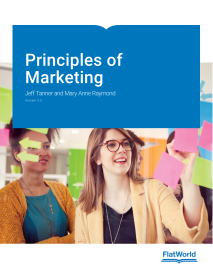 Principles of Marketing,
v. 3.0
By:

Jeff Tanner and Mary Anne Raymond
Pub Date:

April 2016

eISBN:

978-1-4533-7449-8

Pages:

386
What do you want to do?
Product Details:
Available Formats:
Online Access [Required] $29.95
Online Access [Required] + Ebook Downloads $49.95
Online Access [Required] + Color Textbook $54.95
Online Access [Required] + Ebook Downloads + Color Textbook $74.95
Summary:
Principles of Marketing, v. 3.0
Jeff Tanner and Mary Ann Raymond
---
WHAT'S NEW IN 3.0:
DIGITAL MARKETING:

Version 3.0. now includes a new chapter on digital marketing, encompassing how firms go about conducting everything from e-mail to search-engine and social media marketing.

NEW EXAMPLES:

Included are new examples, videos, and illustrations that more reflect the latest in how marketing actually gets done.

NEW TOPICS:

Cutting-edge topics include the sharing economy, social media best practices, big data, new FTC guidelines, and native advertising.

---

In writing Principles of Marketing, v. 3.0, Dr. Jeff Tanner and Mary Ann Raymond had a simple aim:


To teach the experience and process of actually doing marketing - not just the vocabulary.

---

This textbook is suitable for these courses: Introduction to Marketing, Principles of Marketing, Marketing 101

This textbook is suitable for 2 and 4 year institutions.

---

PEDAGOGICAL FEATURES: FIVE DOMINANT THEMES

SERVICE DOMINANT LOGIC:

This textbook employs the term "offering" instead of the more traditional first "P" product. Consumers don't sacrifice value when alternating between a product and a service. They are evaluating the entire experience.

SUSTAINABILITY:

Increasingly, companies are interested in the impact they are having on their local community as well as the overall environment. This is often referred to as the triple bottom line of financial, social, and environmental performance.

ETHICS AND SOCIAL RESPONSIBILITY

The authors make consistent references to ethical situations throughout chapter coverage, and end of chapter materials often encompass ethical situations.

GLOBAL COVERAGE

Whether it is today's price of gasoline, high profile elections, or Midwestern U.S. farming, almost every industry and company needs strong global awareness. And today's marketing professionals must understand the world in which they and their companies operate.

METRICS

With the potential to capture so much more detail about transactions, marketers should now be able to answer "Is this marketing strategy really worth it?", "What is the marketing ROI?" and "What is this customer worth to us over their lifetime?"

CUSTOMIZABILITY

Additionally, the Flat World Knowledge publishing model allows instructors to adapt the textbook to the exact needs of their specific class and student body.

See how easy it is to customize a textbook in this 4 minute demo: Flat World Editing Platform Video Demo
Supplements:
This textbook comes with the following materials that you can use in your classroom.
Test Item File
Need assistance in supplementing your quizzes and tests? Our test item files (in Word format) contain many true/false, multiple choice, fill in the blanks, and short essay questions.
Instructor Manual
The Instructor Manual (in Word format) will help guide you through the main concepts of each chapter such as learning objectives, key terms and takeaways. Many also include explanations and answers to chapter exercises.
Powerpoint Lecture Notes
A PowerPoint presentation highlighting key learning objectives and the main concepts for each chapter are available for you to use in your classroom. You can either cut and paste sections or use the presentation as a whole
Test Generator
Prefer printable tests? Download our test generator and start creating printable tests today! We offer a test generator for both PC and Mac users.
Testbank for Import to Learning Management System
We have taken our test item file and created files to import into several Learning Management Systems. Click for detailed information and file availability.
Connect:
Who's Using this Textbook?