Faculty:
Read & modify our textbooks
Students:
Start by locating your class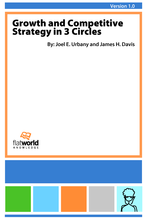 Growth and Competitive Strategy in 3 Circles,
v. 1.0
By:

Joel E. Urbany and James H. Davis
Pub Date:

February 2012

eISBN:

978-1-4533-4362-3

Pages:

180
What do you want to do?
Table of Contents:
Show me how easy it is to modify this textbook >
INSTRUCTORS:
Interested in combining chapters from this book with your own or other third party content?
XanEdu can help.
Learn more »
Product Details:
Student Formats:
Digital All Access Pass $39

Access to online, offline, and eBook formats: online book with Study Pass, chapter PDFs, and eBook files for tablets, e-readers, and smartphones.

Study Pass $24

Access to the online book only with study tools like note-taking and highlighting; study aids like flashcards; and study view, which collapses each chapter into key terms and key takeaways.

Black & White Print Textbook $59

Bonus access to online and eBooks.
Summary:
Growth and competitive advantage are about effective positioning. Building effective positioning is challenging today for firms facing new and stronger competition, volatile and uncertain markets, and shifting customer desires and demands.
Growth and Competitive Strategy in 3 Circles by Urbany and Davis uses the 3-Circle model to facilitate your students' speed of understanding and action by focusing attention on the most critical strategy concepts in this uncertain environment.
The book helps students understand how a growth strategy emerges in the model from systematically addressing four key strategy directives in a deep and disciplined way:
1. define, build, and defend the unique value you create for customers;
2. correct, eliminate, or reveal value that is failing customers, which they're not aware of;
3. potentially neutralize the unique value created for customers by competitors;
4. explore and exploit new growth opportunities through deep understanding of customers' unmet needs.
Review Growth and Competitive Strategy in 3 Circles to see if it is an appropriate compliment to your strategy courses.
Supplements:
This textbook comes with the following materials that you can use in your classroom.
Powerpoint Lecture Notes
A PowerPoint presentation highlighting key learning objectives and the main concepts for each chapter are available for you to use in your classroom. You can either cut and paste sections or use the presentation as a whole
Connect:
Who's Using this Textbook?