Faculty:
Read & modify our textbooks
Students:
Start by locating your class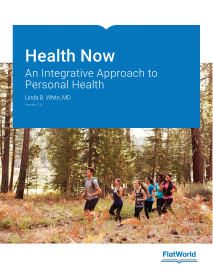 Health Now: An Integrative Approach to Personal Health,
v. 2.0
Pub Date:

October 2015

eISBN:

978-1-4533-8343-8

Pages:

612
What do you want to do?
Table of Contents:
Show me how easy it is to modify this textbook >
INSTRUCTORS:
Interested in combining chapters from this book with your own or other third party content?
XanEdu can help.
Learn more »
Product Details:
Available Formats:
Online Access [Required] $29.95
Online Access [Required] + Ebook Downloads $49.95
Online Access [Required] + Black & White Textbook* $54.95
Online Access [Required] + Ebook Downloads + Black & White Textbook* $74.95

* Moving to color textbooks in the spring of 2017 for the same price.
Summary:
Intended for the college-level Personal Health course.
Health Now: An Integrative Approach to Personal Health
by Linda B. White, M.D. covers the concepts you expect but adds a few important innovations that will capture students' attention and help you deliver the most current content. White pays far more than lip service to the rise of complementary and alternative medicine (CAM).
Features:
> Chapter 2 covers integrative medicine—the marriage of conventional and CAM therapies. And when appropriate, chapters throughout provide an integrative, holistic point-of-view to the topics discussed.
> Every chapter includes: "Assess Yourself," which offers self-assessment tools for students, and "When to Seek Help," which offers warning signs to keep in mind.
> Chapter 15 covers men's and women's health concerns, exploring the differences and providing both genders with tools to cope with gender-specific maladies.
If flexibility and affordability are important to you, Flat World Knowledge's Book Editor platform allows instructors to easily personalize the content in this textbook online to fit any syllabus perfectly. See how easy it is to customize a textbook in this 4 minute demo:
Flat World Editing Platform Video Demo
.
Review this entire textbook online, or request review materials to see if this textbook is right for your course and students.
What's new in Version 2.0
The field of health care changes constantly and quickly. In this 2.0 version of Health Now, all statistics have been updated and older studies have been replaced with new studies where available. In addition, where guidelines for prevention, detection, and treatment of diseases covered have shifted, this revision brings the text up to date. Where science has shed new light on the etiology of a disease or the consequences of not treating said disease, that breaking news is reported here as well.
Version 2.0 also includes updated and refreshed videos, graphics, and resources for students and professors alike. In addition, discussion questions have been updated to reflect changing health information and trends.
Supplements:
This textbook comes with the following materials that you can use in your classroom.
Test Item File
Need assistance in supplementing your quizzes and tests? Our test item files (in Word format) contain many true/false, multiple choice, fill in the blanks, and short essay questions.
Instructor Manual
The Instructor Manual (in Word format) will help guide you through the main concepts of each chapter such as learning objectives, key terms and takeaways. Many also include explanations and answers to chapter exercises.
Powerpoint Lecture Notes
A PowerPoint presentation highlighting key learning objectives and the main concepts for each chapter are available for you to use in your classroom. You can either cut and paste sections or use the presentation as a whole
Testbank for Import to Learning Management System
We have taken our test item file and created files to import into several Learning Management Systems. Click for detailed information and file availability.
Connect:
Who's Using this Textbook?