Faculty:
Read & modify our textbooks
Students:
Start by locating your class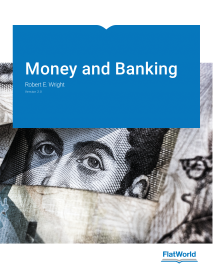 Money and Banking,
v. 2.0
Pub Date:

March 2012

eISBN:

978-1-4533-4379-1

Pages:

320
What do you want to do?
Product Details:
Available Formats:
Online Access [Required] $29.95
Online Access [Required] + Ebook Downloads $49.95
Online Access [Required] + Black & White Textbook* $54.95
Online Access [Required] + Ebook Downloads + Black & White Textbook* $74.95

* Moving to color textbooks in the spring of 2017 for the same price.
Summary:
Listen to a podcast here of Robert discussing his textbook and gain perspective on why he wrote a Money and Banking text.
The financial crisis of 2007-8 has already revolutionized institutions, markets, and regulation. Wright's Money and Banking V 2.0 captures those revolutionary changes and packages them in a way that engages undergraduates enrolled in Money and Banking and Financial Institutions and Markets courses.
Minimal mathematics, accessible language, and a student-oriented tone ease readers into complex subjects like money, interest rates, banking, asymmetric information, financial crises and regulation, monetary policy, monetary theory, and other standard topics. Numerous short cases, called "Stop and Think" boxes, promote internalization over memorization. Exercise drills ensure basic skills competency where appropriate. Short, snappy sections that begin with a framing question enhance readability and encourage assignment completion.
The 2.0 version of this text boasts substantive revisions (additions, deletions, rearrangements) of almost every chapter based on the suggestions of many Money and Banking instructors.
Some specific highlights are: Chapter 11 now contains enhanced descriptions of recent regulatory changes, including Dodd-Frank, Chapter 12 is an entirely new chapter on derivatives covering forwards, futures, options, and swaps that also including comprehensive treatment of the causes and consequences of financial crises, and Chapter 14 has updated discussions of the Federal Reserve's monetary policy tools, including paying interest on reserves, and the structure and leadership of the European Central Bank.
Recent financial turmoil has increased student interest in the financial system but simultaneously threatens to create false impressions and negative attitudes. This up-to-date text by a dynamic, young author encourages students to critique the financial system without rejecting its many positive attributes. Peruse the book online now to see for yourself if this book fits the needs of your course and students.
Supplements:
This textbook comes with the following materials that you can use in your classroom.
Test Item File
Need assistance in supplementing your quizzes and tests? Our test item files (in Word format) contain many true/false, multiple choice, fill in the blanks, and short essay questions.
Instructor Manual
The Instructor Manual (in Word format) will help guide you through the main concepts of each chapter such as learning objectives, key terms and takeaways. Many also include explanations and answers to chapter exercises.
Powerpoint Lecture Notes
A PowerPoint presentation highlighting key learning objectives and the main concepts for each chapter are available for you to use in your classroom. You can either cut and paste sections or use the presentation as a whole
Test Generator
Prefer printable tests? Download our test generator and start creating printable tests today! We offer a test generator for both PC and Mac users.
Testbank for Import to Learning Management System
We have taken our test item file and created files to import into several Learning Management Systems. Click for detailed information and file availability.
Connect:
Who's Using this Textbook?