Textbook Details
Updating Soon - Winter 2024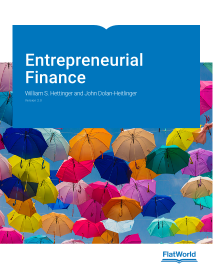 Entrepreneurial Finance v2.0
By:

William S. Hettinger and John Dolan-Heitlinger

Published:

February 2019

Discipline:

Finance Textbooks
ISBN (Digital):

978-1-4533-9288-1
Entrepreneurial Finance v2.0 is an easy-to-understand for finance book which covers the fundamental basics of finance. It presents key concepts in a straightforward, consistent manner and clearly explains what key financial information means and how to use it effectively to plan, launch or run a business. Throughout the book, Hettinger and Dolan-Heitlinger use case studies that are representative of the business that students are likely to encounter in the real world, including a retail shop, small manufacturing business, and medical office.
Brief Table of Contents
Chapter 1: How Businesses Make Money
Chapter 2: Three Sample Companies
Chapter 3: Cash Flow Statements: The Basics
Chapter 4: Profit and Loss Statement Basics
Chapter 5: Difference between Cash and Profit
Chapter 6: Balance Sheet Basics
Chapter 7: How the Balance Sheet Varies by Business Type
Chapter 8: How Financial Statements Tie Together
Chapter 9: Understanding the Indirect Cash Flow Statement
Chapter 10: Evaluating Profitability
Chapter 11: Working Capital and Operational Efficiency
Chapter 12: Can You Pay Your Bills?
Chapter 13: Can You Pay the Bank?
Chapter 14: Measuring Percentage Change
Chapter 15: Using Finance Tools to Manage Your Business
Chapter 16: What to Consider When Starting Your Business
Chapter 17: Legal and Your Business
Chapter 18: Accounting and Your Business
Chapter 19: Taxes and Your Business
Chapter 20: Starting Your Business
Chapter 21: When Growth Makes Sense
Chapter 22: Planning and Budgeting Growth
Chapter 23: Evaluating Growth
Chapter 24: Sales Projection Analysis
Chapter 25: Cost–Benefit Analysis
Chapter 26: Time Value of Money
Chapter 27: Doing Business Internationally
Chapter 28: Finding Money to Start and Operate Your Business
Appendix A: Planning Your Business
Appendix B: Making Your Business Legal
Appendix C: Planning Your Accounting and Taxes
Appendix D: Startup Expenses
Appendix E: Sales and Cost of Goods Sold Forecast
Appendix F: Monthly Expenses
Appendix G: Cash Needs Forecast
Appendix H: Sensitivity Analysis
Appendix I: Business Forecasting Model