Faculty:
Read & modify our textbooks
Students:
Start by locating your class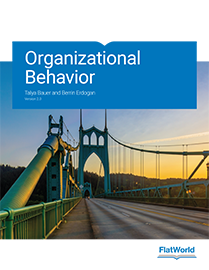 Organizational Behavior,
v. 2.0
By:

Talya Bauer and Berrin Erdogan
Pub Date:

June 2015

eISBN:

978-1-4533-7119-0

Pages:

472
What do you want to do?
Table of Contents:
Show me how easy it is to modify this textbook >
INSTRUCTORS:
Interested in combining chapters from this book with your own or other third party content?
XanEdu can help.
Learn more »
Product Details:
Available Formats:
Online Access [Required] $29.95
Online Access [Required] + Ebook Downloads $49.95
Online Access [Required] + Color Textbook $54.95
Online Access [Required] + Ebook Downloads + Color Textbook $74.95
Summary:
Organizational Behavior, v. 2.0
Talya Bauer and Berrin Erdogan
---
WHAT'S NEW IN 2.0
UPDATED SECTIONS:

Updated to include many new case studies, statistics, data, figures, and graphics. Notably added are sections or new information on stress, communication and women in leadership. Toolboxes and related key terms are also updated in this new version.
---
In writing Organizational Behavior, v.2.0, Talya Bauer and Berrin Erdogan, two leading researchers in management, had simple aims
To bridge the gap between theory and practice of management with a distinct "experiential" approach.
---
This textbook is suitable for these courses: Organizational Behavior, Managerial Behavior
This textbook is suitable for 2 and 4 year institutions.
---
PEDAGOGICAL FEATURES:
TOOLS FOR LIFELONG LEARNERS:

In order to succeed in a constantly changing job market, individuals need to be armed with the tools necessary for lifelong learning. To that end, this book is not about giving students answers to every situation they may encounter in their careers. Instead, the book provides the vocabulary, framework, and critical thinking skills necessary to diagnose situations, ask tough questions, evaluate answers received, and to act in an effective and ethical manner regardless of situational characteristics.

EXPERIENTIAL APPROACH & "OB TOOLBOX":

Often, students taking OB either do not understand how important knowledge of OB can be to their professional careers, or they DO understand and they want to put that knowledge into practice. Organizational Behavior takes a more experiential angle to the material to meet both of those needs. This approach can be incorporated in the classroom through the "OB Toolbox," which brings life to concepts and allows students to not only see how OB theories unfold, but to practice them, as well.

EXERCISES:

Each chapter concludes with Ethical Dilemmas, Individual Exercises and Group Exercises. These options cater to several types of learners and can engender meaningful discussion and contemplation.

CASE STUDIES:

Real-life case studies reported in each chapter, many new for the 2.0 version, present familiar companies facing real organizational difficulties or challenges.

CUSTOMIZABILITY:

The Flat World Knowledge publishing model allows instructors to adapt the textbook to the exact needs of their specific class and student body.


See how easy it is to customize a textbook in this 4 minute demo: Flat World Editing Platform Video Demo
Supplements:
This textbook comes with the following materials that you can use in your classroom.
Test Item File
Need assistance in supplementing your quizzes and tests? Our test item files (in Word format) contain many true/false, multiple choice, fill in the blanks, and short essay questions.
Instructor Manual
The Instructor Manual (in Word format) will help guide you through the main concepts of each chapter such as learning objectives, key terms and takeaways. Many also include explanations and answers to chapter exercises.
Other Supplements
Solutions manuals, sample exams, video learning segments, workbooks, cases and lab manuals are just some of the extras our books will offer depending on the needs of the course. Click here to see what this textbook offers.
Powerpoint Lecture Notes
A PowerPoint presentation highlighting key learning objectives and the main concepts for each chapter are available for you to use in your classroom. You can either cut and paste sections or use the presentation as a whole
Test Generator
Prefer printable tests? Download our test generator and start creating printable tests today! We offer a test generator for both PC and Mac users.
Testbank for Import to Learning Management System
We have taken our test item file and created files to import into several Learning Management Systems. Click for detailed information and file availability.
Connect:
Who's Using this Textbook?