Faculty:
Read & modify our textbooks
Students:
Start by locating your class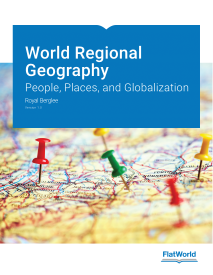 World Regional Geography: People, Places, and Globalization,
v. 1.0
Pub Date:

January 2012

eISBN:

978-1-4533-2978-8

Pages:

580
What do you want to do?
Table of Contents:
Show me how easy it is to modify this textbook >
INSTRUCTORS:
Interested in combining chapters from this book with your own or other third party content?
XanEdu can help.
Learn more »
Product Details:
Available Formats:
Online Access [Required] $29.95
Online Access [Required] + Ebook Downloads $49.95
Online Access [Required] + Black & White Textbook* $54.95
Online Access [Required] + Ebook Downloads + Black & White Textbook* $74.95

* Moving to color textbooks in the spring of 2017 for the same price.
Summary:
World Regional Geography: People, Places and Globalization is designed for students to experience and study as much of the world as possible within a limited amount of time. It gives students the fundamental concepts and the latest data regarding world places in a concise, easy-to-read format.
This World Regional Geography textbook focuses on the primary issues that have created our cultural and societal structures, and presents them within a framework for global understanding. A pattern of development is outlined from the imprint that European colonialism had on culture to the impact that giant retail corporations like Wal-Mart have on consumerism.
Within this framework, the textbook takes a regional approach to globalization and world geography, as each chapter focuses on one subject or region. The first unit covers the basic concepts of location, the environment, and global economic dynamics. Then, these basic concepts, theories, and principles are presented for each region on a chapter-by-chapter basis.
The basic concepts are covered using real world examples to provide purpose and relevance for the students. And each lesson begins with learning objectives and ends with key takeaways to stimulate critical thinking about each topic or region. Basic spatial concepts are also tracked throughout the text to connect ideas and apply concepts to every region of the world. Special sections on relevant topics are also distributed throughout the book.
With each chapter focused on one region, the textbook provides professors with some course management and flexibility. The text is also brief enough to provide additional flexibility if professors want to include specialized information from outside sources.
See how easy it is to customize a textbook in this 4 minute demo:
Flat World Editing Platform Video Demo
World Regional Geography: People, Places and Globalization provides students with a working knowledge of world geography in an easy-to-read format. Basic geographic concepts of world places are presented in concise chapters, and each chapter provides a foundational framework for understanding the development patterns of world regions. See for yourself and take a look at the book today!
Supplements:
This textbook comes with the following materials that you can use in your classroom.
Test Item File
Need assistance in supplementing your quizzes and tests? Our test item files (in Word format) contain many true/false, multiple choice, fill in the blanks, and short essay questions.
Instructor Manual
The Instructor Manual (in Word format) will help guide you through the main concepts of each chapter such as learning objectives, key terms and takeaways. Many also include explanations and answers to chapter exercises.
Powerpoint Lecture Notes
A PowerPoint presentation highlighting key learning objectives and the main concepts for each chapter are available for you to use in your classroom. You can either cut and paste sections or use the presentation as a whole
Test Generator
Prefer printable tests? Download our test generator and start creating printable tests today! We offer a test generator for both PC and Mac users.
Testbank for Import to Learning Management System
We have taken our test item file and created files to import into several Learning Management Systems. Click for detailed information and file availability.
Connect:
Who's Using this Textbook?