Faculty:
Read & modify our textbooks
Students:
Start by locating your class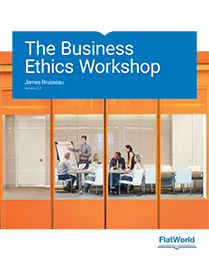 The Business Ethics Workshop,
v. 2.0
Pub Date:

November 2015

eISBN:

978-1-4533-7380-4

Pages:

462
What do you want to do?
Product Details:
Available Formats:
Online Access [Required] $29.95
Online Access [Required] + Ebook Downloads $49.95
Online Access [Required] + Black & White Textbook* $54.95
Online Access [Required] + Ebook Downloads + Black & White Textbook* $74.95

* Moving to color textbooks in the spring of 2017 for the same price.
Summary:
This textbook is intended for the Business Ethics course.

The Business Ethics Workshop by James Brusseau engages students with contemporary examples and topical case studies. The text is also broad and clear: the important dilemmas of business ethics are presented thoroughly, and in everyday language. The result is a textbook that generates student participation, without sacrificing scope or rigor.

The examples and cases James touches on include:

> Tom's Shoes, the social cause juggernaut
> Blogs written by young entrepreneurs in the fashion industry
> The DNA testing of baseball prospects to predict future performance
> The divergent career objectives of the rock band Nirvana's members
> The Miami police officer working part time as a drug dealer
> The Bernie Madoff fraud
> Chippendales as a career choice
> Workplace ethics at youth trendsetter American Apparel
> An internet message board discussion of CD pirating, both the techniques and the ethics
> Eddy Lepp's Rastafarian church and farm in California
> The College Board and the economics of the SATs


To provide maximum flexibility for instructors in the classroom, the ethical theory is concentrated in three initial chapters. The individual theoretical approaches may be covered sequentially or selectively, and at the course's beginning, or spread throughout. The second set of chapters explores ethical issues facing employees; these include questions about resume embellishment, conflict of interest, and similar. Next, a string of chapters investigates ethical concerns confronting managers, including concerns about hiring practices and corporate culture. Finally, general issues in the field of economic ethics are pursued. They include questions about marketing and consumerism, corporate social responsibility, and wealth distribution.

For this second edition, the textual content has been substantially updated. Also, more than fifty video case studies have been distributed throughout; many featuring news reports along with sharpening refinements of the presented conflicts. Further, a robust PowerPoint deck of nearly 700 slides has been produced to carefully track the textbook. Besides clearly summarizing each section, there are slides linking to videos that raise ethical dilemmas for class discussion. The result is an interactive classroom, and also one that instructors may step into quickly and easily. With much of the preparation work already done, energy can be focused on classroom time with students. The Business Ethics Workshop contributes, in sum, to a contemporary, clear, and dynamic course.

See how easy it is to customize a textbook in this 4 minute demo: Flat World Editing Platform Video Demo
Supplements:
This textbook comes with the following materials that you can use in your classroom.
Test Item File
Need assistance in supplementing your quizzes and tests? Our test item files (in Word format) contain many true/false, multiple choice, fill in the blanks, and short essay questions.
Other Supplements
Solutions manuals, sample exams, video learning segments, workbooks, cases and lab manuals are just some of the extras our books will offer depending on the needs of the course. Click here to see what this textbook offers.
Powerpoint Lecture Notes
A PowerPoint presentation highlighting key learning objectives and the main concepts for each chapter are available for you to use in your classroom. You can either cut and paste sections or use the presentation as a whole
Connect:
Who's Using this Textbook?