Faculty:
Read & modify our textbooks
Students:
Start by locating your class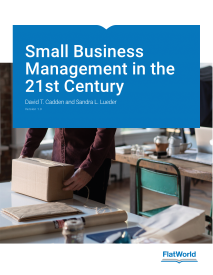 Small Business Management in the 21st Century,
v. 1.0
By:

David T. Cadden and Sandra L. Lueder
Pub Date:

June 2012

eISBN:

978-1-4533-4556-6

Pages:

520
What do you want to do?
Table of Contents:
Show me how easy it is to modify this textbook >
INSTRUCTORS:
Interested in combining chapters from this book with your own or other third party content?
XanEdu can help.
Learn more »
Product Details:
Available Formats:
Online Access [Required] $29.95
Online Access [Required] + Ebook Downloads $49.95
Online Access [Required] + Black & White Textbook* $54.95
Online Access [Required] + Ebook Downloads + Black & White Textbook* $74.95

* Moving to color textbooks in the spring of 2017 for the same price.
Summary:
Small Business Management in the 21st Century
offers a unique perspective and set of capabilities for instructors. The authors designed this book with a "less can be more" approach, and by treating small business management as a practical human activity rather than as an abstract theoretical concept.
The text has a format and structure that will be familiar to you if you use other books on small business management. Yet it brings a fresh perspective by incorporating three distinctive and unique themes and an important new feature (Disaster Watch) which is embedded throughout the entire text. These themes assure that students see the material in an integrated context rather than a stream of separate and distinct topics.
First, the authors incorporate the use of technology and e-business as a way to gain competitive advantage over larger rivals. Technology is omnipresent in today's business world. Small business must use it to its advantage. We provide practical discussions and examples of how a small business can use these technologies without having extensive expertise or expenditures.
Second, they explicitly acknowledge the constant need to examine how decisions affect cash flow by incorporating cash flow impact content in several chapters. As the life blood of all organizations, cash flow implications must be a factor in all business decision-making.
Third, they recognize the need to clearly identify sources of customer value and bring that understanding to every decision. Decisions that do not add to customer value should be seriously reconsidered.
Small Business Management in 21st Century boasts a new feature called Disaster Watch scenarios. Few texts cover, in any detail, some of the major hazards that small business managers face. Disaster Watch scenarios, included in most chapters, cover topics that include financing, bankers, creditors, employees, customers who don't pay, economic downturns, and marketing mistakes.
If you're interested in delivering a course to your students that gives practical information on how to run a small business while using customer value, digital technology, and cash flow as key themes rather than after-thought add-ins - Small Business Management in the 21st Century is the book for you. Request a desk copy and check it out today.
See how easy it is to customize a textbook in this 4 minute demo:
Flat World Editing Platform Video Demo
Supplements:
This textbook comes with the following materials that you can use in your classroom.
Test Item File
Need assistance in supplementing your quizzes and tests? Our test item files (in Word format) contain many true/false, multiple choice, fill in the blanks, and short essay questions.
Instructor Manual
The Instructor Manual (in Word format) will help guide you through the main concepts of each chapter such as learning objectives, key terms and takeaways. Many also include explanations and answers to chapter exercises.
Other Supplements
Solutions manuals, sample exams, video learning segments, workbooks, cases and lab manuals are just some of the extras our books will offer depending on the needs of the course. Click here to see what this textbook offers.
Powerpoint Lecture Notes
A PowerPoint presentation highlighting key learning objectives and the main concepts for each chapter are available for you to use in your classroom. You can either cut and paste sections or use the presentation as a whole
Test Generator
Prefer printable tests? Download our test generator and start creating printable tests today! We offer a test generator for both PC and Mac users.
Testbank for Import to Learning Management System
We have taken our test item file and created files to import into several Learning Management Systems. Click for detailed information and file availability.
Connect:
Who's Using this Textbook?