Faculty:
Read & modify our textbooks
Students:
Start by locating your class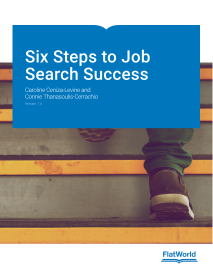 Six Steps to Job Search Success,
v. 1.0
By:

Caroline Ceniza-Levine and Connie Thanasoulis-Cerrachio
Pub Date:

August 2011

eISBN:

978-1-4533-2914-6

Pages:

301
What do you want to do?
Product Details:
Available Formats:
Online Access [Required] $29.95
Online Access [Required] + Ebook Downloads $49.95
Online Access [Required] + Black & White Textbook* $54.95
Online Access [Required] + Ebook Downloads + Black & White Textbook* $74.95

* Moving to color textbooks in the spring of 2017 for the same price.
Summary:
This book is a practical discussion of six actionable steps that students can take to land a job regardless of the market. Whether the estimate is 25% unemployment or single-digit unemployment, that number doesn't apply to any one student. For any individual, the unemployment rate is 0% or 100%. One either has a job or doesn't. When any one person is looking for a job and there is 10% unemployment, that person just wants to be one of the nine people that has a job.
Students might think even that one job is beyond their grasp. They think they don't have the right degree. Their school is in a different location than where they'd like to work. Not enough jobs are listed or employers are visiting the campus. This type of thinking cedes control of a student's search to outside forces. It is not up to professors, schools, career services support, or recruiters to get students a job. This book is about the proactive things that students can do to get themselves a job.
In the first chapter, Six Steps to Job Search Success covers the different types of job searches: full-time job after graduation, internship, return to workforce, career change, relocation. The rest of the book is about how, regardless of the type of job search or overall market, one can be proactive and successfully land a job. This textbook outlines a structured approach, actionable steps, and stresses the importance of a student's willingness to see this through.
Six Steps to Job Search Success provides that structure with six steps anyone can take to: 1. identify the types of jobs they'd like (Step 1: Identify Your Target) 2. position themselves for these jobs (Step 2: Create A Powerful Marketing Campaign) 3. figure out what employers are looking for (Step 3: Research) 4. develop relationships with prospective employers (Step 4: Network and Interview) 5. stay connected throughout the decision-making process and fix any problems that might arise (Step 5: Stay Motivated; Organized and Troubleshoot Your Search) 6. complete their search (Step 6: Negotiate and Close the Offer).
Connie and Caroline are both former recruiters with over 40 years of combined hiring experience between them. Connie led recruiting areas for three Fortune 500 companies, and Caroline led recruiting in-house for a Fortune 500 but also as an external recruiter for established firms and start-ups. They've hired thousands of people from interns to senior executives. They developed the process detailed in Six Steps to Job Search Success based on how hiring works.
The authors explain that in reality, the ability to look for a job and land a job is a separate and distinct skill than any of the skills required for the job itself. The goal of their book is share their job search techniques with your students so that your students can take control of their job search, add an exceptional new job to their career and enjoy the life rewards a satisfying career can bring. If you are interested in a practical approach that can deliver results, this book is for you and your course. Order a desk copy today and see for yourself.
Supplements:
This textbook comes with the following materials that you can use in your classroom.
Test Item File
Need assistance in supplementing your quizzes and tests? Our test item files (in Word format) contain many true/false, multiple choice, fill in the blanks, and short essay questions.
Instructor Manual
The Instructor Manual (in Word format) will help guide you through the main concepts of each chapter such as learning objectives, key terms and takeaways. Many also include explanations and answers to chapter exercises.
Powerpoint Lecture Notes
A PowerPoint presentation highlighting key learning objectives and the main concepts for each chapter are available for you to use in your classroom. You can either cut and paste sections or use the presentation as a whole
Test Generator
Prefer printable tests? Download our test generator and start creating printable tests today! We offer a test generator for both PC and Mac users.
Testbank for Import to Learning Management System
We have taken our test item file and created files to import into several Learning Management Systems. Click for detailed information and file availability.
Connect:
Who's Using this Textbook?