Faculty:
Read & modify our textbooks
Students:
Start by locating your class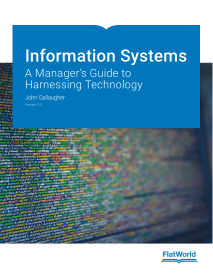 Information Systems: A Manager's Guide to Harnessing Technology,
v. 4.0
Pub Date:

August 2015

eISBN:

978-1-4533-7281-4

Pages:

480
What do you want to do?
Product Details:
Available Formats:
Online Access [Required] $29.95
Online Access [Required] + Ebook Downloads $49.95
Online Access [Required] + Black & White Textbook* $54.95
Online Access [Required] + Ebook Downloads + Black & White Textbook* $74.95

* Moving to color textbooks in the spring of 2017 for the same price.
Summary:
Information Systems: A Manager's Guide to Harnessing Techonology, v. 4.0
John Gallaugher
---
WHAT'S NEW IN 4.0:
FRESHLY UPDATED:

Every chapter has received an update to ensure that it covers the latest topics and material. Today's cutting edge firms and headline grabbing topics presented through durable frameworks and concepts.

PROFILING WOMEN IN TECH ENTREPRENEURSHIP:

New chapter on Rent the Runway highlights Jenn Hyman and Jenny Fleiss as they've built a user base of over 5 million for their sharing economy standout, a "Fashion Company with a Technology Soul." The entrepreneur's path in building value for a two-sided market, leveraging social media, scouring big data, and building a multi-channel operations marvel is covered in depth.

MICKEY'S WEARABLE:

A mini-case in the "Moore's Law and More" chapter discusses the launch of Disney's billion dollar MagicBand and MyMagic+ systems. Low cost consumer tech is leveraged for better customer experience and operational efficiency gains, but not before tackling challenging systems integration and team coordination issues.

BIG DATA STANDOUTS:

New examples show how Spotify's The Echo Nest is creating a machine-learning tastemaker, while L.L. Bean dives deep into NoSQL to wrangle a business that now spans some 30 customer engagement channels.

EMBEDDED VIDEO FOR KEY UPDATES:

Students using the online version will find embedded video for several new topics, including Amazon's use of robotics to automate fulfillment centers, Zara's new RFID initiative, the Cognitoy/Watson-using child learning aid, and Disney's MagicBand, among others.

CUTTING EDGE COVERAGE:

From Facebook's move to make Messenger a platform to Google's evolution to Alphabet, students will feel their text and classroom are alive with the most current content available.

For a comprehensive list of what's new in version 4.0, visit Gallaugher's blog.

---

John Gallaugher of Boston College has been named one of Entrepreneur Magazine's "Gurus to Grads." His popular and award-winning textbook offers a proven approach that has garnered student praise and increased information systems enrollment. Each year Gallaugher meets with scores of tech industry executives from Silicon Valley to sub-Saharan Africa, and there is no other Information Systems author today who keeps his text as "up-to-the-month" current.


For regular updates, follow Gallaugher's blog, The Week in Geek, and connect with him on Twitter at @gallaugher.

---

This textbook is suitable for these courses:Undergraduate or graduate courses in Management Information Systems and Information Technology

This textbook is suitable for 2 and 4 year institutions.

---

PEDAGOGICAL FEATURES:

FOCUS ON STRATEGIC THINKING:

Rather than lead with technical topics, the book starts with strategic thinking, focusing on big-picture issues that have confounded experts but will engage students.

CURRENT, ENGAGING AND HOLISTIC CASE STUDIES:

While chapters introduce concepts, cases on approachable, exciting firms across industries further challenge students to apply what they've learned. Students love how concepts are introduced in a text that reads more like Wired and the Wall Street Journal than a conventional textbook.

CONCEPTS:

Chapters cover not only strategy and technology basics, but critical and cutting edge concepts such as data analytics, security, social media, the sharing economy, disruptive innovation, network effects and platform creation, open source, and cloud computing.

FASCINATING FIRMS:

In-depth profiles include firms that students know and are eager to learn more about. Amazon, Facebook, Google, Netflix, Rent the Runway, and Zara are among the firms that get extended coverage, along with mini-cases on Airbnb, Uber, and more.

CUSTOMIZABILITY:

The Flat World Knowledge publishing model allows instructors to adapt the textbook to the exact needs of their specific class and student body. See how easy it is to customize a textbook in this 4 minute demo: Flat World Editing Platform Video Demo
Supplements:
This textbook comes with the following materials that you can use in your classroom.
Test Item File
Need assistance in supplementing your quizzes and tests? Our test item files (in Word format) contain many true/false, multiple choice, fill in the blanks, and short essay questions.
Instructor Manual
The Instructor Manual (in Word format) will help guide you through the main concepts of each chapter such as learning objectives, key terms and takeaways. Many also include explanations and answers to chapter exercises.
Other Supplements
Solutions manuals, sample exams, video learning segments, workbooks, cases and lab manuals are just some of the extras our books will offer depending on the needs of the course. Click here to see what this textbook offers.
Powerpoint Lecture Notes
A PowerPoint presentation highlighting key learning objectives and the main concepts for each chapter are available for you to use in your classroom. You can either cut and paste sections or use the presentation as a whole
Test Generator
Prefer printable tests? Download our test generator and start creating printable tests today! We offer a test generator for both PC and Mac users.
Testbank for Import to Learning Management System
We have taken our test item file and created files to import into several Learning Management Systems. Click for detailed information and file availability.
Connect:
Who's Using this Textbook?