Faculty:
Read & modify our textbooks
Students:
Start by locating your class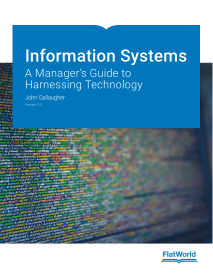 Information Systems: A Manager's Guide to Harnessing Technology,
v. 5.0
Pub Date:

July 2016

eISBN:

978-1-4533-7575-4

Pages:

496
What do you want to do?
Product Details:
Available Formats:
Online Access [Required] $29.95
Online Access [Required] + Ebook Downloads $49.95
Online Access [Required] + Color Textbook $54.95
Online Access [Required] + Ebook Downloads + Color Textbook $74.95
Summary:
Information Systems: A Manager's Guide to Harnessing Techonology, v. 5.0
John Gallaugher
---
WHAT'S NEW IN 5.0:
FRESHLY UPDATED:

Every chapter has received an update to ensure that it covers the latest topics and material. Today's cutting edge firms and headline grabbing topics are presented through durable frameworks and concepts.

WORLDWIDE TRENDS IN TECH DEVELOPMENTS:

Included are updates and statistics on companies and technologies being developed around the world. China started the century as a nation largely unplugged and offline, but now has more internet users than any other country. In Sub-Saharan Africa, 70% of the population lives within mobile cell phone coverage. Now, even drones are affordable enough to be used as a delivery system in places with poor infrastructure.

PROTEUS, A PILL CAMERA:

A mini-case in the "Moore's Law and More" chapter discusses the launch of Proteus's low cost and efficient "PillCam." Using small sensors and powered by digestive acids, the pill allows doctors to see a unique perspective inside the human body (literally).

SOCIAL MEDIA POWERHOUSE:

Statistics on the massive amount of new social networks and acquisitions in the marketplace have all been updated. New content includes Microsoft's acquisition of LinkedIn, Slack's dominant presence in the business space, and the rise of companies like HubSpot. New subsections discuss Twitter and the rise of microblogging, as well as Facebook's dominant news feed and its strong position against Google's advertising monopoly.

CUTTING EDGE COVERAGE:

From Facebook's move to make Messenger a platform to Google's evolution to Alphabet, students will feel their text and classroom are alive with the most current content available.

For a comprehensive list of what's new in version 5.0, visit Gallaugher's blog.

---

John Gallaugher of Boston College has been named one of Entrepreneur Magazine's "Gurus to Grads." His popular and award-winning textbook offers a proven approach that has garnered student praise and increased information systems enrollment. Each year Gallaugher meets with scores of tech industry executives from Silicon Valley to sub-Saharan Africa, and there is no other Information Systems author today who keeps his text as "up-to-the-month" current.


For regular updates, follow Gallaugher's blog, The Week in Geek, and connect with him on Twitter at @gallaugher.

---

This textbook is suitable for these courses:Undergraduate or graduate courses in Management Information Systems and Information Technology

This textbook is suitable for 2 and 4 year institutions.

---

PEDAGOGICAL FEATURES:

FOCUS ON STRATEGIC THINKING:

Rather than lead with technical topics, the book starts with strategic thinking, focusing on big-picture issues that have confounded experts but will engage students.

CURRENT, ENGAGING AND HOLISTIC CASE STUDIES:

While chapters introduce concepts, cases on approachable, exciting firms across industries further challenge students to apply what they've learned. Students love how concepts are introduced in a text that reads more like Wired and the Wall Street Journal than a conventional textbook.

CONCEPTS:

Chapters cover not only strategy and technology basics, but critical and cutting edge concepts such as data analytics, security, social media, the sharing economy, disruptive innovation, network effects and platform creation, open source, and cloud computing.

FASCINATING FIRMS:

In-depth profiles include firms that students know and are eager to learn more about. Amazon, Facebook, Google, Netflix, Rent the Runway, and Zara are among the firms that get extended coverage, along with mini-cases on Airbnb, Uber, and more.

CUSTOMIZABILITY:

The Flat World Knowledge publishing model allows instructors to adapt the textbook to the exact needs of their specific class and student body. See how easy it is to customize a textbook in this 4 minute demo: Flat World Editing Platform Video Demo
Supplements:
This textbook comes with the following materials that you can use in your classroom.
Test Item File
Need assistance in supplementing your quizzes and tests? Our test item files (in Word format) contain many true/false, multiple choice, fill in the blanks, and short essay questions.
Other Supplements
Solutions manuals, sample exams, video learning segments, workbooks, cases and lab manuals are just some of the extras our books will offer depending on the needs of the course. Click here to see what this textbook offers.
Instructor Manual
The Instructor Manual (in Word format) will help guide you through the main concepts of each chapter such as learning objectives, key terms and takeaways. Many also include explanations and answers to chapter exercises.
Powerpoint Lecture Notes
A PowerPoint presentation highlighting key learning objectives and the main concepts for each chapter are available for you to use in your classroom. You can either cut and paste sections or use the presentation as a whole
Test Generator
Prefer printable tests? Download our test generator and start creating printable tests today! We offer a test generator for both PC and Mac users.
Solutions Manual
For exercises that need a little more explanation, our Solutions Manual will take you step by step through solving the problem and offer explanations on the answer.
Testbank for Import to Learning Management System
We have taken our test item file and created files to import into several Learning Management Systems. Click for detailed information and file availability.
Connect:
Who's Using this Textbook?