Faculty:
Read & modify our textbooks
Students:
Start by locating your class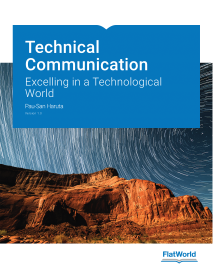 Technical Communication: Excelling in a Technological World,
v. 1.0
Pub Date:

March 2016

eISBN:

978-1-4533-7443-6

Pages:

706
What do you want to do?
Product Details:
Available Formats:
Online Access [Required] $29.95
Online Access [Required] + Ebook Downloads $49.95
Online Access [Required] + Black & White Textbook* $54.95
Online Access [Required] + Ebook Downloads + Black & White Textbook* $74.95

* Moving to color textbooks in the spring of 2017 for the same price.
Summary:
Intended for the interdisciplinary Technical Communication course.

Technical Communication informs, instructs, and illuminates by explaining the rationale for recommended practices. Because this textbook is written in a modular fashion, instructors have a great deal of flexibility and can freely modify and rearrange its content using Flat World's Book Editor platform. Skills are separated from technical documents; technical documents from case projects; and so on.

Part I on essential skills covers strategic, ethical, intercultural, verbal and visual communication. These are enduring skills for successful job performance, independent of emerging technologies and social media trends.

Part II applies these skills to a broad range of technical documents with recommendations from corporate users of electronic and collaborative tools. The documents covered include memos, emails, IMs, product descriptions, instructional manuals, reports, proposals as well as others in print, interactive, and social media. The textbook explains how traditional forms of business correspondence and print translate into new communicative genres by presenting the universal principles operating across documents, media, and cultural contexts.

Part III introduces students to some of the most exciting technological innovations which will impact our lives in the 21st century. The technology topics serve as cases for individual and collaborative projects. The topics include voice technologies, pathfinding and automated navigation, grid computing, and barcoding of species.
Supplements:
This textbook comes with the following materials that you can use in your classroom.
Test Item File
Need assistance in supplementing your quizzes and tests? Our test item files (in Word format) contain many true/false, multiple choice, fill in the blanks, and short essay questions.
Instructor Manual
The Instructor Manual (in Word format) will help guide you through the main concepts of each chapter such as learning objectives, key terms and takeaways. Many also include explanations and answers to chapter exercises.
Powerpoint Lecture Notes
A PowerPoint presentation highlighting key learning objectives and the main concepts for each chapter are available for you to use in your classroom. You can either cut and paste sections or use the presentation as a whole
Connect:
Who's Using this Textbook?