Faculty:
Read & modify our textbooks
Students:
Start by locating your class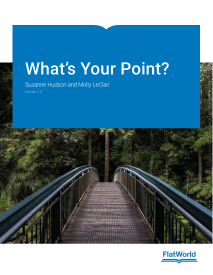 What's Your Point?,
v. 2.0
By:

Suzanne Hudson and Molly LeClair
Pub Date:

May 2017

eISBN:

978-1-4533-8493-0

Pages:

464
What do you want to do?
Table of Contents:
Show me how easy it is to modify this textbook >
INSTRUCTORS:
Interested in combining chapters from this book with your own or other third party content?
XanEdu can help.
Learn more »
Product Details:
Available Formats:
Online Access [Required] $29.95
Online Access [Required] + Ebook Downloads $49.95
Online Access [Required] + Black & White Textbook* $54.95
Online Access [Required] + Ebook Downloads + Black & White Textbook* $74.95

* Moving to color textbooks in the spring of 2017 for the same price.
Summary:
What's Your Point?
Suzanne Hudson and Molly LeClair: For more information on
What's Your Point?
, visit the authors'
website at https://whatsyourpointhudsonleclair.wordpress.com/.
---
In writing What's Your Point?, Suzanne Hudson and Molly LeClair's aims were clear:

To improve upon traditional strategies and help students better express their own ideas through writing
To ensure your important ideas are understood and appreciated
To bridge established writing processes with new technologies and digital media
To build critical thinking skills and encourage students to ask, "What's my point?" throughout the writing process

---

What's new in V2.0 of What's Your Point?


New Sample Focus Questions, particularly in the analysis, argument, and research chapters.
Several Concept Check examples have been updated.
Several professional essays have been added with new prereading questions and challenge questions.
The MLA section has been updated, based on the new MLA handbook. Further, the APA and Chicago Manual of Style sections reflect formatting improvements.

---

This text is suitable for the following courses: Freshman composition, first-year composition, and upper-division composition courses
This text is suitable for 2-year and 4-year institutions.

---

PEDAGOGICAL FEATURES

EXTEND BEYOND EXPOSITION: Instead of asking students to "explain" something, the authors use the word "analyze," defining analysis as more than breaking down a subject into its component parts.




STATE A THESIS, SUPPORT IT WELL: Students trained in the art of formulating a thoughtful, accurate, and specific thesis will be prepared to meet the expectations of their college professors or their supervisors and colleagues after college.




ESTABLISH A WRITING PROCESS: The text encourages students to proceed through the organizing principles of inventing, planning, drafting, revising, and editing.




ADAPT TO CHANGING TECHNOLOGY: What's Your Point? integrates digital media to show students how to access information using today's technology. Instructors will find exercises and assignments for making use of online resources in a variety of disciplines and classroom settings.

---

What's Your Point? contains some important features:




PROOF QUESTIONS: A unique "proof question" clarifies supporting points students need to make to prove their thesis. When students understand and apply this question, their ability to think and write in the more challenging modes of analysis and argument will improve.




CUSTOMIZABILITY: What's Your Point? is interactive. You can move around in the text; search for keywords; navigate concepts and chapters; add and view notes; and highlight, bookmark, and participate actively in the book. You can make it your own.



Supplements:
This textbook comes with the following materials that you can use in your classroom.
Instructor Manual
The Instructor Manual (in Word format) will help guide you through the main concepts of each chapter such as learning objectives, key terms and takeaways. Many also include explanations and answers to chapter exercises.
Connect:
Who's Using this Textbook?