Faculty:
Read & modify our textbooks
Students:
Start by locating your class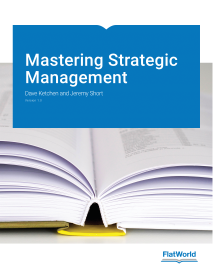 Mastering Strategic Management,
v. 1.0
By:

Dave Ketchen and Jeremy Short
Pub Date:

December 2011

eISBN:

978-1-4533-3238-2

Pages:

292
What do you want to do?
Table of Contents:
Show me how easy it is to modify this textbook >
INSTRUCTORS:
Interested in combining chapters from this book with your own or other third party content?
XanEdu can help.
Learn more »
Product Details:
Student Formats:
Digital All Access Pass $39

Access to online, offline, and eBook formats: online book with Study Pass, chapter PDFs, and eBook files for tablets, e-readers, and smartphones.

Study Pass $24

Access to the online book only with study tools like note-taking and highlighting; study aids like flashcards; and study view, which collapses each chapter into key terms and key takeaways.

Black & White Print Textbook $59

Bonus access to online and eBooks.

Color Print Textbook $139

Bonus access to online book.
Summary:
Teaching the strategic management course can be a challenge for many professors. In most business schools, strategic management is a "capstone" course that requires students to draw on insights from various functional courses they have completed (such as marketing, finance, and accounting) in order to understand how top executives make the strategic decisions that drive whether organizations succeed or fail. Although students have taken these functional courses, many students have very little experience with major organizational choices. It is this inexperience that can undermine many students' engagement in the course.

Three innovative features
Mastering Strategic Managementis designed to enhance student engagement in three innovative ways.


Visual adaptations of key content. It is well documented that many of today's students are visual learners. Therefore, this textbook contains multiple graphic concept pages in ever section of every chapter of the book. Think of graphic concept pages as almost like info-graphics for key concepts in each section. This feature sets Mastering Strategic Management apart from any strategic management book on the market today.


Use of a real-world company as the running example in each chapter. For example, Chapter 1 in Mastering Strategic Management utilizes Apple to harness the conceptual coverage of the chapter in a running, corporate, application to which students will relate.


"Strategy at the movies." This feature, in each chapter, links course concepts with a popular motion picture. In Chapter 1, for example, the authors describe how "The Social Network" illustrates intended, emergent, and realized strategies.



You can expect Mastering Strategic Management to cover all of the traditional topics that standard strategic management texts cover, but in an exciting way that will assist you in engaging your students in your course. See for yourself by checking out the book online today.
Supplements:
This textbook comes with the following materials that you can use in your classroom.
Test Item File
Need assistance in supplementing your quizzes and tests? Our test item files (in Word format) contain many true/false, multiple choice, fill in the blanks, and short essay questions.
Instructor Manual
The Instructor Manual will help guide you through the main concepts of each chapter such as learning objectives, key terms and takeaways. Many also include explanations and answers to chapter exercises.
Testbank for Import to Learning Management System
We have taken our test item file and created files to import into the following Learning Management Systems*: Blackboard, Angel, Moodle, WebCT. We also support a Respondus Neutral file that you can use to easily import our questions in any LMS supported by Respondus. * Please note that only certain versions of each LMS are supported. Click on Supplements for detailed information
Powerpoint Lecture Notes
A PowerPoint presentation highlighting key learning objectives and the main concepts for each chapter are available for you to use in your classroom. You can either cut and paste sections or use the presentation as a whole
Test Generator
Prefer printable tests? Download our test generator powered by Brownstone and start creating printable tests today! We offer a test generator for both PC and Mac users.
Connect:
Who's Using this Textbook?