Faculty:
Read & modify our textbooks
Students:
Start by locating your class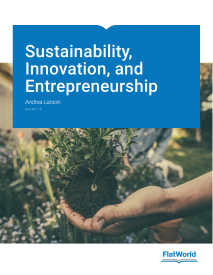 Sustainability, Innovation, and Entrepreneurship,
v. 1.0
Pub Date:

May 2011

eISBN:

978-1-4533-2725-8

Pages:

312
What do you want to do?
Table of Contents:
Show me how easy it is to modify this textbook >
INSTRUCTORS:
Interested in combining chapters from this book with your own or other third party content?
XanEdu can help.
Learn more »
Product Details:
Student Formats:
Digital All Access Pass $39

Access to online, offline, and eBook formats: online book with Study Pass, chapter PDFs, and eBook files for tablets, e-readers, and smartphones.

Study Pass $24

Access to the online book only with study tools like note-taking and highlighting; study aids like flashcards; and study view, which collapses each chapter into key terms and key takeaways.

Black & White Print Textbook $59

Bonus access to online and eBooks.

Color Print Textbook $139

Bonus access to online book.
Summary:
This book is suited for the Entrepreneurship or Innovation course with an emphasis on Sustainability or for a course devoted entirely to Sustainability.

What are the trends and forces underlying the changing character of the business-environment relationship? How they are creating significant entrepreneurial opportunities for individuals and companies? Around the world, the movement toward "sustainable development" has caused many firms to adopt policies and practices that reflect what is sometimes called a "sustainable business" or "triple bottom line" approach. "Triple bottom line" refers to the demonstration of strong performance across economic, social, and environmental indicators.

Those measures serve as indicators of fiduciary responsibility to a growing set of concerned investors and therefore can help ensure access to capital. They also enable innovators to lower costs, create strategic differentiation, reduce risk, and position themselves for competitive advantage over rivals less attuned to trends.

The deep roots of sustainability thinking are now evident in widespread and increasingly visible activities worldwide, and Sustainability, Innovation, and Entrepreneurship explores this evolution; its necessity, its implications and its progression.
Supplements:
This textbook comes with the following materials that you can use in your classroom.
Instructor Manual
The Instructor Manual will help guide you through the main concepts of each chapter such as learning objectives, key terms and takeaways. Many also include explanations and answers to chapter exercises.
Powerpoint Lecture Notes
A PowerPoint presentation highlighting key learning objectives and the main concepts for each chapter are available for you to use in your classroom. You can either cut and paste sections or use the presentation as a whole
Test Item File
Need assistance in supplementing your quizzes and tests? Our test item files (in Word format) contain many true/false, multiple choice, fill in the blanks, and short essay questions.
Connect:
Who's Using this Textbook?