Faculty:
Read & modify our textbooks
Students:
Start by locating your class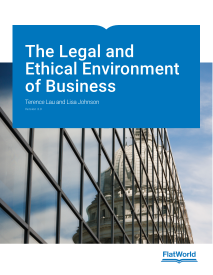 The Legal and Ethical Environment of Business,
v. 3.0
By:

Terence Lau and Lisa Johnson
Pub Date:

May 2017

eISBN:

978-1-4533-8430-5

Pages:

350
What do you want to do?
Table of Contents:
Show me how easy it is to modify this textbook >
INSTRUCTORS:
Interested in combining chapters from this book with your own or other third party content?
XanEdu can help.
Learn more »
Product Details:
Available Formats:
Online Access [Required] $29.95
Online Access [Required] + Ebook Downloads $49.95
Online Access [Required] + Black & White Textbook* $54.95
Online Access [Required] + Ebook Downloads + Black & White Textbook* $74.95

* Moving to color textbooks in the spring of 2017 for the same price.
Summary:
The Legal and Ethical Environment of Business, v. 3.0
Terence Lau and Lisa Johnson
---
WHAT'S NEW IN 3.0:
UP TO DATE

Chapters cover contemporary materials relevant to the study of the legal environment. For example, discussion of the Affordable Care Act and major Supreme Court decisions on same-sex marriage have been incorporated into several sections.

NEW SECTION ON AGENCY

A new section on Agency is now part of the chapter on employment law. All major aspects of agency law are covered including vicarious liability, duties, and distinctions between independent contractors and employees.

NOTABLE EVENTS

A number of important notable events are used to illustrate legal principles. For example, the VW emissions scandal is covered in detail when examining ethics as well as corporate criminal liability.

SIGNIFICANTLY MORE VIDEO

Public-domain video clips that illustrate the point and help students connect legal theory to real life have been added to virtually every section in the textbook. These videos are fun and help students learn better.

---

In writing The Legal and Ethical Environment of Business, Terence Lau and Lisa Johnson had simple aims:


To present the often-overwhelming legal environment of business in an exciting and relevant way
To provide faculty a way of achieving that goal

---

This textbook is suitable for these courses: Legal Environment of Business

This textbook is suitable for 2- and 4-year institutions.

---

PEDAGOGICAL FEATURES

DISCUSSION QUESTIONS:

The questions within each chapter of this textbook encourage critical thought, engagement, and dialogue.

INTERACTIVE EXERCISES & VIDEO:

These allow students to engage with concepts and apply ideas through hands-on learning.

"QUESTION OF ETHICS" SECTIONS:

Each chapter contains sections with real world ethical dilemmas relevant to the topic under study.

REAL WORLD APPLICATIONS:

With all of its unique aspects, this textbooks allows students to apply concepts in the context of relevant legal environment of business (LEB) topics shaping actual decision-makers' actions. It's real world practice in the safety of the classroom environment.

CUSTOMIZABILITY:

The Flat World Knowledge publishing model allows instructors to adapt the textbook to the exact needs of their specific class and student body.

See how easy it is to customize a textbook in this 4 minute demo: Flat World Editing Platform Video Demo
Supplements:
This textbook comes with the following materials that you can use in your classroom.
Test Item File
Need assistance in supplementing your quizzes and tests? Our test item files (in Word format) contain many true/false, multiple choice, fill in the blanks, and short essay questions.
Instructor Manual
The Instructor Manual (in Word format) will help guide you through the main concepts of each chapter such as learning objectives, key terms and takeaways. Many also include explanations and answers to chapter exercises.
Powerpoint Lecture Notes
A PowerPoint presentation highlighting key learning objectives and the main concepts for each chapter are available for you to use in your classroom. You can either cut and paste sections or use the presentation as a whole
Connect:
Who's Using this Textbook?