Faculty:
Read & modify our textbooks
Students:
Start by locating your class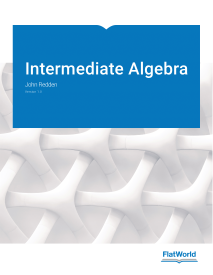 Intermediate Algebra,
v. 1.0
Pub Date:

August 2012

eISBN:

978-1-4533-4748-5

Pages:

864
What do you want to do?
Table of Contents:
Show me how easy it is to modify this textbook >
INSTRUCTORS:
Interested in combining chapters from this book with your own or other third party content?
XanEdu can help.
Learn more »
Product Details:
Available Formats:
Online Access [Required] $29.95
Online Access [Required] + Ebook Downloads $49.95
Online Access [Required] + Black & White Textbook* $54.95
Online Access [Required] + Ebook Downloads + Black & White Textbook* $74.95

* Moving to color textbooks in the spring of 2017 for the same price.
Summary:
It is essential to lay a solid foundation in mathematics if a student is to be competitive in today's global market. The importance of algebra, in particular, cannot be overstated, as it is the basis of all mathematical modeling used in applications found in all disciplines.

Traditionally, the study of algebra is separated into a two parts, Elementary and Intermediate Algebra. This textbook by John Redden, Intermediate Algebra, is the second part. Written in a clear and concise manner, it carefully builds on the basics learned in Elementary Algebra and introduces the more advanced topics required for further study in applications found in most disciplines.

Used as a standalone textbook, Intermediate Algebra offers plenty of review as well as something new to engage the student in each chapter. Written as a blend of the traditional and graphical approaches to the subject, this textbook introduces functions early and stresses the geometry behind the algebra. While CAS independent, a standard scientific calculator will be required and further research using technology is encouraged.

Intermediate Algebra is written from the ground up in an open and modular format, allowing the instructor to modify it and leverage their individual expertise as a means to maximize the student experience and success.

A more modernized element, embedded video examples, are present, but the importance of practice with pencil and paper is consistently stressed. Therefore, this text respects the traditional approaches to algebra pedagogy while enhancing it with the technology available today.

The importance of Algebra cannot be overstated; it is the basis for all mathematical modeling used in all disciplines. After completing a course sequence based on Elementary and Intermediate Algebra, students will be on firm footing for success in higher-level studies at the college level.

"Start Reading" to see for yourself.
Supplements:
This textbook comes with the following materials that you can use in your classroom.
Test Item File
Need assistance in supplementing your quizzes and tests? Our test item files (in Word format) contain many true/false, multiple choice, fill in the blanks, and short essay questions.
Instructor Manual
The Instructor Manual (in Word format) will help guide you through the main concepts of each chapter such as learning objectives, key terms and takeaways. Many also include explanations and answers to chapter exercises.
Powerpoint Lecture Notes
A PowerPoint presentation highlighting key learning objectives and the main concepts for each chapter are available for you to use in your classroom. You can either cut and paste sections or use the presentation as a whole
Solutions Manual
For exercises that need a little more explanation, our Solutions Manual will take you step by step through solving the problem and offer explanations on the answer.
Connect:
Who's Using this Textbook?