Faculty:
Read & modify our textbooks
Students:
Start by locating your class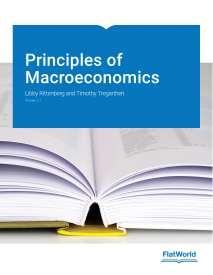 Principles of Macroeconomics,
v. 1.0
By:

Libby Rittenberg and Timothy Tregarthen
Pub Date:

March 2009

eISBN:

978-1-4533-2692-3

Pages:

550
What do you want to do?
Product Details:
Available Formats:
Online Access [Required] $29.95
Online Access [Required] + Ebook Downloads $49.95
Online Access [Required] + Black & White Textbook* $54.95
Online Access [Required] + Ebook Downloads + Black & White Textbook* $74.95

* Moving to color textbooks in the spring of 2017 for the same price.
Summary:
Interested in an online assessment tool for Principles of Macroeconomics? We have that...and it is called FLYX! Watch this demonstration here for more information on FLYX Online Learning and Assessment.
Listen to a podcast here of Libby discussing her textbook to gain perspective on her and Tim's text.
Flat World Knowledge is honored to publish a new, first edition re-launch of Tim Tregarthen's wonderful principles of macroeconomics book, and proud to bring Tim's incredible talents as a teacher back to life so future generations of students can continue to learn from him.
In 1996, he published the first edition of his principles of microeconomics textbook to great acclaim, and it became widely used in colleges around the country. That same year, MS made him wheelchair-bound. The disease forced his retirement from teaching at the University of Colorado at Colorado Springs in 1998. He lost the use of his arms in 2001 and has been quadriplegic ever since.
Tim never let his disease get him down. In fact, he turned back to his love of writing and teaching for inspiration. He obtained a voice-activated computer, recruited a co-author, Libby Rittenberg of Colorado College, and turned his attention to revising his principles of economics book.
Today we are excited to introduce Libby Rittenberg and Timothy Tregarthen's Principles of Macroeconomics. The authors teach economics as the study of "choice " by providing students with an accessible, straightforward overview of economics. This textbook combines the clarity and writing of Tregarthen's seminal periodical "The Margin" with great teaching insights.
Rittenberg and Tregarthen help students to understand how real individuals actually work with economics. In this new textbook, the authors illustrate the practicality and relevance of economics with a variety of new illustrations and insights.
The authors take a three-pronged approach to every concept: (1) the concept is covered with a "Heads Up" to ward off confusion, (2) a "You Try It" section makes sure students are staying on top of the concept and (3) a "Case and Point" section that uses a real-world application to harness the concept in reality. For one example of how this plays out in the text see "Chapter 3, Section 2 on Supply".here
This book is intended for a one-semester Principles of Macroeconomics course taught out the social sciences or business school.
Supplements:
This textbook comes with the following materials that you can use in your classroom.
Test Item File
Need assistance in supplementing your quizzes and tests? Our test item files (in Word format) contain many true/false, multiple choice, fill in the blanks, and short essay questions.
Other Supplements
Solutions manuals, sample exams, video learning segments, workbooks, cases and lab manuals are just some of the extras our books will offer depending on the needs of the course. Click here to see what this textbook offers.
Instructor Manual
The Instructor Manual (in Word format) will help guide you through the main concepts of each chapter such as learning objectives, key terms and takeaways. Many also include explanations and answers to chapter exercises.
Powerpoint Lecture Notes
A PowerPoint presentation highlighting key learning objectives and the main concepts for each chapter are available for you to use in your classroom. You can either cut and paste sections or use the presentation as a whole
Test Generator
Prefer printable tests? Download our test generator and start creating printable tests today! We offer a test generator for both PC and Mac users.
Solutions Manual
For exercises that need a little more explanation, our Solutions Manual will take you step by step through solving the problem and offer explanations on the answer.
Testbank for Import to Learning Management System
We have taken our test item file and created files to import into several Learning Management Systems. Click for detailed information and file availability.
Connect:
Who's Using this Textbook?