Faculty:
Read & modify our textbooks
Students:
Start by locating your class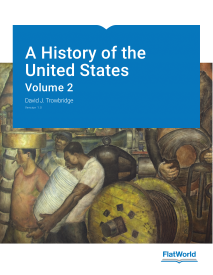 A History of the United States, Volume 2,
v. 1.0
Pub Date:

March 2012

eISBN:

978-1-4533-2955-9

Pages:

546
What do you want to do?
Product Details:
Student Formats:
Digital All Access Pass $39

Access to online, offline, and eBook formats: online book with Study Pass, chapter PDFs, and eBook files for tablets, e-readers, and smartphones.

Study Pass $24

Access to the online book only with study tools like note-taking and highlighting; study aids like flashcards; and study view, which collapses each chapter into key terms and key takeaways.

Black & White Print Textbook $59

Bonus access to online and eBooks.

Color Print Textbook $139

Bonus access to online book.
Summary:
A History of the United States Vol. 2 by Trowbridge is an engaging, accessible narrative that makes US history (after 1865) come alive and bridges the gap between academia and your students. But don't take our word for it, check out this academic review. This text does more than cover the basic timeline of events students need to be familiar with, it provides opportunities to read about history from a variety of perspectives and appeals to students of diverse backgrounds and abilities. Trowbridge made a concerted effort to reach students where they live, regardless of whether they have already discovered a love for history or they are about to in your class.
A History of the United States also incorporates a variety of perspectives and blends social and cultural history throughout a direct and concise narrative. The author challenges students to find connections between events and eras (such as the ideas and rhetoric of the American Revolution and the Civil War or the impact of the Cold War on the Civil Rights Movement). In addition, A History of the United States includes examples of how the past has been interpreted by others over time to show why historical interpretations change, and why this matters.
Finally, you'll find A History of the United States to be the most easily adaptable text on the market today. Flat World's creative commons license and MIYO (Make It Your Own) customization platform makes it possible for you to edit this text in any way you choose and the changes will be attributed to you.
Arguably, no other academic discipline lends itself to ease of adaptability that Flat World provides quite as well as history. In a discipline where individuality reigns, authority is suspect and "truth" is subjective, a peer reviewed open-source textbook like this one offers the best of both worlds. First, a stand-alone text that covers the field better than any textbook presently on the market, and second, an opportunity to present additional perspective based on an instructor's own research and knowledge of what works with their students.
Review A History of the United States by Trowbridge today to assess if it is the right book to compliment your lectures and uncomplicate your life, allowing you to focus on the job you love—teaching History.
Supplements:
This textbook comes with the following materials that you can use in your classroom.
Instructor Manual
The Instructor Manual will help guide you through the main concepts of each chapter such as learning objectives, key terms and takeaways. Many also include explanations and answers to chapter exercises.
Test Item File
Need assistance in supplementing your quizzes and tests? Our test item files (in Word format) contain many true/false, multiple choice, fill in the blanks, and short essay questions.
Powerpoint Lecture Notes
A PowerPoint presentation highlighting key learning objectives and the main concepts for each chapter are available for you to use in your classroom. You can either cut and paste sections or use the presentation as a whole
Testbank for Import to Learning Management System
We have taken our test item file and created files to import into the following Learning Management Systems*: Blackboard, Angel, Moodle, WebCT. We also support a Respondus Neutral file that you can use to easily import our questions in any LMS supported by Respondus. * Please note that only certain versions of each LMS are supported. Click on Supplements for detailed information
Test Generator
Prefer printable tests? Download our test generator powered by Brownstone and start creating printable tests today! We offer a test generator for both PC and Mac users.
Connect:
Who's Using this Textbook?