Faculty:
Read & modify our textbooks
Students:
Start by locating your class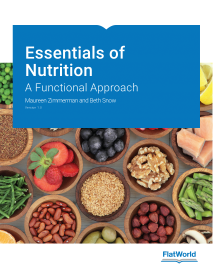 Essentials of Nutrition: A Functional Approach,
v. 1.0
By:

Maureen Zimmerman and Beth Snow
Pub Date:

December 2012

eISBN:

978-1-4533-5247-2

Pages:

492
What do you want to do?
Product Details:
Available Formats:
Online Access [Required] $29.95
Online Access [Required] + Ebook Downloads $49.95
Online Access [Required] + Black & White Textbook* $54.95
Online Access [Required] + Ebook Downloads + Black & White Textbook* $74.95

* Moving to color textbooks in the spring of 2017 for the same price.
Summary:
Essentials of Nutrition: A Functional Approach, by Zimmerman and Snow is a textbook aimed at non-majors for the nutrition course. With this text your students will examine some of the popular myths about nutrition and will develop a foundation for making smart dietary choices and to debunk these common nutrition myths. As students learn about the role of nutrition in optimal health, they will learn about dietary nutrients and toxicants. A sampling of topics covered include macro- and micronutrient needs; determining individual nutrient and caloric needs; digestion and absorption; nutritional needs throughout the various stages of human development; and current food issues, sustainability concerns, including food safety.
The authors believe as students explore these topics of nutrition using an applied format, they will better understand key concepts and retain information using a functional approach. This approach is reflected in the organization of nutrients around their physiological functions, such as in the chapters on fluid and electrolyte balance, antioxidant function, bone health, energy and metabolism and blood health, making the information easier to understand and retain. As Essentials of Nutrition explores the relationship between nutrition and physiology, students will receive a "behind the scenes" examination of health and disease in the body. Through demonstration of the relevance of the material to your students' lives, drawing from the natural world around us and discussing topics that are of particular interest to students such as obesity, vegetarianism and weight loss supplements, their desire for learning and understanding nutrition will be solidified.


Some differentiating features of Essentials of Nutrition are:

Sustainability

Sustainability is an important concept being interwoven throughout curriculum in higher education. Students are increasingly interested in sustainable food issues. They are looking for favorable ways to impact not only their health, but also the environment and their local economy. Students often have misinformation about how they can make a positive impact. Therefore, by highlighting effective sustainable food behaviors, supported by science, this book will provide students a significant resource. In addition, the authors provide links to mypyramidtracker.gov throughout the text. Students will be encouraged to create their own meals, shop smarter, choose wisely and at the same time foster an active attitude toward food sustainability.




Storytelling as a Pedagogy Paradigm

Storytelling has long been used in the humanities, but storytelling is for scientists, too. By creating stories, with "hooks" for new concepts, students can readily learn these unfamiliar terms and concepts. Chapter opening You Decide vignettes, help students to master core concepts through stories accentuated with "learning hooks" upon which the instructor can build.




Approachable Science

The authors have been conscientious to add an essential scientific framework to the material in Essentials of Nutrition; scientific discussions are presented in a simplistic fashion. We are developing this text with the assumption that students have little or no prior knowledge of college level chemistry, biology or physiology.




As a nutrition instructor, undoubtedly you are seeking ways to engage your students and simultaneously impart valuable knowledge about controversial hot topics that present themselves in our society on a recurring basis. Essentials of Nutrition: A Functional Approach by Zimmerman and Snow can help you achieve that goal. See for yourself how this book might work in your course, request review materials for this textbook today.



See how easy it is to customize a textbook in this 4 minute demo: Flat World Editing Platform Video Demo
Supplements:
This textbook comes with the following materials that you can use in your classroom.
Test Item File
Need assistance in supplementing your quizzes and tests? Our test item files (in Word format) contain many true/false, multiple choice, fill in the blanks, and short essay questions.
Instructor Manual
The Instructor Manual (in Word format) will help guide you through the main concepts of each chapter such as learning objectives, key terms and takeaways. Many also include explanations and answers to chapter exercises.
Other Supplements
Solutions manuals, sample exams, video learning segments, workbooks, cases and lab manuals are just some of the extras our books will offer depending on the needs of the course. Click here to see what this textbook offers.
Powerpoint Lecture Notes
A PowerPoint presentation highlighting key learning objectives and the main concepts for each chapter are available for you to use in your classroom. You can either cut and paste sections or use the presentation as a whole
Test Generator
Prefer printable tests? Download our test generator and start creating printable tests today! We offer a test generator for both PC and Mac users.
Testbank for Import to Learning Management System
We have taken our test item file and created files to import into several Learning Management Systems. Click for detailed information and file availability.
Connect:
Who's Using this Textbook?