Faculty:
Read & modify our textbooks
Students:
Start by locating your class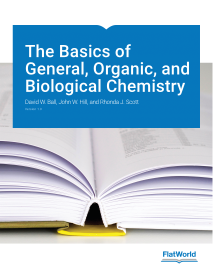 The Basics of General, Organic, and Biological Chemistry,
v. 1.0
By:

David W. Ball, John W. Hill and Rhonda J. Scott
Pub Date:

March 2011

eISBN:

978-1-4533-2788-3

Pages:

692
What do you want to do?
Product Details:
Student Formats:
Digital All Access Pass $42

Access to online, offline, and eBook formats: online book with Study Pass, chapter PDFs, and eBook files for tablets, e-readers, and smartphones.

Study Pass $24

Access to the online book only with study tools like note-taking and highlighting; study aids like flashcards; and study view, which collapses each chapter into key terms and key takeaways.

Black & White Print Textbook $69

Bonus access to online and eBooks.

Color Print Textbook $134

Bonus access to online book.
Summary:
The Basics of General, Organic, and Biological Chemistry by David W. Ball, John W. Hill, and Rhonda J. Scott is for the one-semester General, Organic and Biological Chemistry course. The authors designed this textbook from the ground up to meet the needs of a one-semester course. It is 20 chapters in length and approximately 350-400 pages; just the right breadth and depth for instructors to teach and students to grasp.
In addition, The Basics of General, Organic, and Biological Chemistry is written not by one chemist, but THREE chemistry professors with specific, complimentary research and teaching areas. David W. Ball's specialty is physical chemistry, John W. Hill's is organic chemistry, and finally, Rhonda J. Scott's background is in enzyme and peptide chemistry. These three authors have the expertise to identify and present only the most important material for students to learn in the GOB Chemistry course.
These experienced authors have ensured their text has ample in-text examples, and "Test Yourself" questions following the examples so students can immediately check their comprehension. The end-of-chapter exercises will be paired, with one answered in the back of the text so homework can easily be assigned and self-checked.
The Basics of General, Organic, and Biological Chemistry by David W. Ball, John W. Hill, and Rhonda J. Scott is the right text for you and your students if you are looking for a GOB textbook with just the right amount of coverage without overdoing the concepts and overwhelming your students.
Check out the table of contents and supplements package below, then order a desk copy to see for yourself.
Supplements:
This textbook comes with the following materials that you can use in your classroom.
Test Item File
Need assistance in supplementing your quizzes and tests? Our test item files (in Word format) contain many true/false, multiple choice, fill in the blanks, and short essay questions.
Instructor Manual
The Instructor Manual will help guide you through the main concepts of each chapter such as learning objectives, key terms and takeaways. Many also include explanations and answers to chapter exercises.
PowerPoint Image Library
PowerPoint Image Library: All of the images and figures in this book are included in the PowerPoint Image Library. Arranged in the order of the text, you can use them as is, or you can cut and paste the images as you need them for an enhanced classroom presentation.
Powerpoint Lecture Notes
A PowerPoint presentation highlighting key learning objectives and the main concepts for each chapter are available for you to use in your classroom. You can either cut and paste sections or use the presentation as a whole
Test Generator
Prefer printable tests? Download our test generator powered by Brownstone and start creating printable tests today! We offer a test generator for both PC and Mac users.
Solutions Manual
For exercises that need a little more explanation, our Solutions Manual will take you step by step through solving the problem and offer explanations on the answer.
Testbank for Import to Learning Management System
We have taken our test item file and created files to import into the following Learning Management Systems*: Blackboard, Angel, Moodle, WebCT. We also support a Respondus Neutral file that you can use to easily import our questions in any LMS supported by Respondus. * Please note that only certain versions of each LMS are supported. Click on Supplements for detailed information
Connect:
Who's Using this Textbook?