Faculty:
Read & modify our textbooks
Students:
Start by locating your class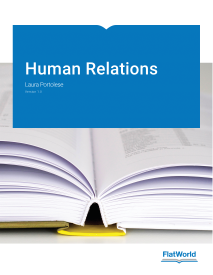 Human Relations,
v. 1.0
Pub Date:

September 2012

eISBN:

978-1-4533-4975-5

Pages:

258
What do you want to do?
Table of Contents:
Show me how easy it is to modify this textbook >
INSTRUCTORS:
Interested in combining chapters from this book with your own or other third party content?
XanEdu can help.
Learn more »
Product Details:
Student Formats:
Digital All Access Pass $39

Access to online, offline, and eBook formats: online book with Study Pass, chapter PDFs, and eBook files for tablets, e-readers, and smartphones.

Study Pass $24

Access to the online book only with study tools like note-taking and highlighting; study aids like flashcards; and study view, which collapses each chapter into key terms and key takeaways.

Black & White Print Textbook $59

Bonus access to online and eBooks.

Color Print Textbook $139

Bonus access to online book.
Summary:
Human Relations by Laura Portolese-Dias addresses all of the critical topics to obtain career success as they relate to professional relationships.
Knowing how to get along with others, resolve workplace conflict, manage relationships, communicate well, and make good decisions are all critical skills all students need to succeed in career and in life.
Human Relations is not an organizational behavior; rather, it provides a good baseline of issues students will deal with in their careers on a day-to-day basis. It is also not a professional communications, business English, or professionalism textbook, as its focus is much broader — on general career success and how to effectively maneuver in the workplace.
From communication challenges to focusing on one's own emotional intelligence, the examples throughout Human Relations will help students understand the importance of the human side in their career.
This book's easy-to-understand language and tone is written to convey practical information in an engaging way. Every chapter opens with a realistic example which introduces a concept to be explained in detail later. Each chapter contains relevant examples, YouTube videos, figures, learning objectives, key takeaways, exercises, and a chapter-ending case that offer different ways to promote learning. Many of the end-of-section exercises offer self-assessment quizzes, so students may engage in self-understanding and development.
Human Relations is a flexible, student-oriented, textbook you may find suitable for any range of courses and students. Request the review materials now to see for yourself.
Supplements:
This textbook comes with the following materials that you can use in your classroom.
Instructor Manual
The Instructor Manual will help guide you through the main concepts of each chapter such as learning objectives, key terms and takeaways. Many also include explanations and answers to chapter exercises.
Powerpoint Lecture Notes
A PowerPoint presentation highlighting key learning objectives and the main concepts for each chapter are available for you to use in your classroom. You can either cut and paste sections or use the presentation as a whole
Test Item File
Need assistance in supplementing your quizzes and tests? Our test item files (in Word format) contain many true/false, multiple choice, fill in the blanks, and short essay questions.
Connect:
Who's Using this Textbook?