Faculty:
Read & modify our textbooks
Students:
Start by locating your class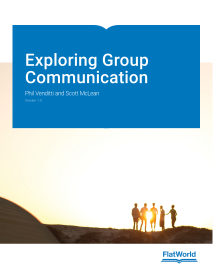 Exploring Group Communication,
v. 1.0
By:

Phil Venditti and Scott McLean
Pub Date:

January 2015

eISBN:

978-1-4533-7125-1

Pages:

286
What do you want to do?
Table of Contents:
Show me how easy it is to modify this textbook >
INSTRUCTORS:
Interested in combining chapters from this book with your own or other third party content?
XanEdu can help.
Learn more »
Product Details:
Available Formats:
Online Access [Required] $29.95
Online Access [Required] + Ebook Downloads $49.95
Online Access [Required] + Black & White Textbook* $54.95
Online Access [Required] + Ebook Downloads + Black & White Textbook* $74.95

* Moving to color textbooks in the spring of 2017 for the same price.
Summary:
Listen to highlights from our authors!
Textbook Summary
From schools to hospitals and from colleges and universities to businesses and government, everyone has come to recognize the importance of effective, collaborative groups and teams. This text is all about providing you with a solid foundation for success!
Exploring Group Communication starts each chapter with introductory exercises that involve experiential and self-reflection activities to spark curiosity. Chapter previews introduce each section, followed by discussions and additional activities that provide opportunities for skill mastery, increased awareness, and a better understanding of group communication. Key words are clearly indicated, and the organizational structure of each section is designed to make them easy and fun to read. Sections conclude with takeaway main points, exercises, and references.
Based on extensive feedback from previous texts in the discipline of communication, this text is written in a clear, concise, and engaging way. Key terms are defined in the same paragraph. Figures, diagrams, and images reinforce the written word. Learning units are presented in ways that are easy to grasp the first time you read them.
The book's unique points include a chapter on group conflict and meetings and several innovative, optional assignments that instructors may use to have their students participate in real-world group activities. An on-/off-campus student involvement project, for instance, permits whole classes to participate in and assess campus committee and advisory group meetings. This text and its resources are designed to extend learning beyond the traditional walls of the classroom.
This text provides a solid foundation in group communication and incorporates the many resources available online, including self-assessments, to expand the discussion and explore each topic. With our "available from day 1" online access, this text is an immediate resource for both instructors and students and is perfect for hybrid and online classes.
Supplements:
This textbook comes with the following materials that you can use in your classroom.
Instructor Manual
The Instructor Manual (in Word format) will help guide you through the main concepts of each chapter such as learning objectives, key terms and takeaways. Many also include explanations and answers to chapter exercises.
Powerpoint Lecture Notes
A PowerPoint presentation highlighting key learning objectives and the main concepts for each chapter are available for you to use in your classroom. You can either cut and paste sections or use the presentation as a whole
Connect:
Who's Using this Textbook?